News
80% of Poles assess the outcomes of EU funds use in a positive way. References are mainly made to new investment projects and economic growth acceleration.
| | |
| --- | --- |
| Says: | Witold Naturski |
| Function: | Head of the Information and Social Communication Department |
| Company: | The European Commission Representation in Poland |
Over 90% of Polish communes have benefited from EU funds, as a result of which a vast majority of Polish people act as beneficiaries of EU resources. For this reason over 80% of of Poles assess the outcomes of the EU funds use in a positive way, as revealed by SW Research in its surveys conducted for the European Commission. Two-thirds of the survey participants have stressed that investment projects improving the road and infrastructure condition have the biggest impact on the development of their immediate surroundings. Under the current financial perspective, Poland has been the main beneficiary of EU resources.
"Opinions regarding the use of EU funds, expressed by Polish people, is definitely positive. Over 80% believe that European funds have fostered successful investment projects and economic development. When compared with the Poles' general views on Poland membership in the EU, a conclusion can be drawn that the figures are practically identical, as the Eurobarometer survey conducted two years ago revealed that 84% supported Poland's membership in the EU," said Witold Naturski, Head of the Information and Communication Department at the European Commission Representation in Poland, interviewed by the Newseria Press Agency.
The negative outcomes of the EU funds use were mentioned by only 4.8% of people surveyed by SW Research by the end of January 2018, who mainly referred to the wasting of money and unnecessary investment projects. Every fifth respondent in this group referred to Poland's being made dependent on the European Union, and every seventh claimed that the money Poland had received would have to be repaid some time in the future, e.g. through higher contributions to the EU budget.
"Dissatisfaction is usually expressed by those who applied for co-funding and did not receive it, as it is always a competitive procedure where certain minimum formal requirements need to be satisfied. Moreover, the funds must be allocated to feasible projects," Witold Naturski stressed.
62.5% of the surveyed people indicated environmental protection as the most important EU-funded area, followed by science and education (52% of the respondents) and business development (48.7%). Two-thirds of the respondents stressed that EU grants improving infrastructure and road conditions had the biggest impact on the development of their immediate surroundings.
"In recent years EU funds in Poland have been used by diversified entities, including entrepreneurs, small and large companies. However, two of the most distinguished groups have been formed by local governments and communes, and by bodies implementing large country-wide infrastructure projects, e.g. railway- or road-related. These major infrastructure projects are in the lead, not so much in terms of the number, but in terms of the value and size," Witold Naturski explained.
As a result, only 2.6% of Poles have never heard of EU funds. Traditional media seem to be the most common source of information, followed by plates displaying information that a given investment project has been co-funded from the EU budget. Nonetheless, rather few Polish people are able to give names of specific EU funds.
"We must bear in mind that not all of us directly benefit from EU funds, like, for instance, entrepreneurs receiving EU grants. However, we all act as indirect beneficiaries, by using road infrastructure. While it is hard to expect that everyone will be very well informed about specific programme names, as such information is not practically useful, Polish people are relatively well aware of the EU funds," Witold Naturski added.
However, the awareness of the so-called Juncker Plan is very limited, with only 8 percent of the respondents being aware of this term despite the fact that Poland is the sixth major beneficiary of the funds unlocked under this programme.
"The plan offers repayable funds, such as loans for economic development, or for business activities carried out by companies and local-government enterprises, letting them implement investment projects for which they would not otherwise obtain any loans, as they would be perceived as too risky by commercial banks. These enable the implementation of such projects as providing apartments with a further ownership option in Poznań, or modernising the provincial hospital in Toruń," Witold Naturski said.
60 percent of Poles claim to experience no difficulties in obtaining EU resources. 16% of the respondents have already applied for such funds, either individually or as representatives of enterprises or institutions; 27% have a family member(s) applying for EU grants, and 35% personally know direct beneficiaries of such grants. The respondents declare that nearly 80% of the submitted applications have been approved.
"Poland makes an excellent use of EU funds. It may differ in various sectors, and there is always a certain risk of not meeting the set deadline, but to date rather insignificant. amounts have remained unspent. We hope that by the end of the current financial perspective, similar to the previous one, we will be able to effectively use all the resources," Witold Naturski stressed.
Data published on the European Funds Portal reveal that, from the launching of EU programmes to 21 January 2018, 72,883 grant applications were submitted for a total amount of PLN 462.6 bn. The value of EU co-funding applied for amounted to PLN 286.6 bn. The value of co-funding under agreements signed with beneficiaries totalled PLN 173.1 bn. Under the current financial perspective, Poland has EUR 82.5 bn at its disposal.
Trade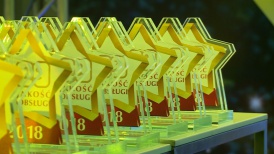 For six years the customer satisfaction index in Poland has grown by over 17 percentage points to nearly 78 percent, and it currently exceeds the customer satisfaction levels recorded in the USA and the United Kingdom. Service quality and its growing significance among businesses have had a tremendous impact on customer satisfaction. For the eleventh time the Customer Service Quality Star titles have been awarded to entrepreneurs recording the best results in this field.