News
Poland top in Europe in window exports for the third year running. The biggest manufacturer also expects good results in 2018
Says:
Robert Klos, Centrum Analiz Branżowych
Jacek Siwiński, President at VELUX Polska.
The total production of windows and doors in Polish facilities grew in 2017 by nearly 6 percent and reached 23.4 m. Over the last four years the number of windows and doors produced in Polish factories has increased by 24 percent, the data from Centrum Analiz Branżowych (CAB, a Polish construction market research agency) indicates. Experts predict that next year the market will grow by about 5 percent with the increase in exports reaching 9-10 percent. The growth in the windows joinery industry is mainly due to exports, in which the highest share, 25 percent, is held by Grupa VELUX. Last year's results reflect the good situation in the whole sector and are a good sign for 2018.
"The situation in the Polish windows and doors industry is excellent. Last year production rose by 6 percent and it was the fourth year of growth in a row. In the whole four-year period, exports increased by a whopping 25 percent and national sales grew 9 percent," CAB's Robert Klos told the Newseria Biznes agency.
The production and exports of windows are a Polish specialty in the EU. The CAB data shows that in 2017 the total production of windows and doors in Polish production facilities grew nearly 6 percent and reached 23.4 m. As for the last four years, the number of windows and doors produced in Polish factories increased by a staggering 24 percent. The growths mainly came from exports, as since 2015 Poland has regularly topped the rankings in the value of window and door exports. The main recipients of Polish windows and doors are Germany, the UK and France.
"The condition of the industry is so good because of exports. The development of the window and door industry is mainly influenced by the high demand for these products, not just in Poland, but also all over Europe. The second factor is the outstanding quality of our products. In recent years we have invested in cutting-edge factories and production lines and at this point few European producers can compete with the Polish companies. Currently, we sell over 10 m windows and doors abroad with a total value of about PLN 8 bn. These are large amounts, and each year they increase by a dozen or so percent. Polish companies have set the European benchmark in window and door production," Robert Klos said.
The CAB expert also pointed out that Polish exports also grew thanks to foreign manufacturers who locate their production facilities in Poland taking advantage of its favourable market situation, highly-skilled workforce and good base of suppliers providing components for production.
"Nearly 40 percent of Polish window and door exports are exports from foreign producers or companies with foreign capital. Such companies have a huge impact on our spectacular success in exports," Robert Klos added.
Poland's biggest producer of windows, the VELUX Group, has over 25 percent share in this country's exports. Last year's corporate results reflect the good situation on the market. VELUX ended the year with a 10-percent increase in revenue and a 12-percent increase in employment.
"2017 was a year of rapid growth for the whole the VELUX Group. We were dealing with a very good situation on export markets, allowing us to increase production in our facilities. Thanks to this, we boosted our revenues by nearly 10 percent to as much as PLN 1.9 bn. We strengthened our position as Poland's leading producer and exporter of windows. Both commercial and individual investors were very active on the Polish market. This, paired with the new and innovative products we had released, allowed us to achieve a significant increase in sales," Jacek Siwiński, President at VELUX Poland, concluded.
Every year VELUX invests in new technologies and product development. In the second quarter of last year the group introduced energy efficient triple-pane windows which use a number of modern technologies, including innovatively-structured ThermoTechnologyTM window profiles and special pane structure ensuring a favourable energy balance. The windows comply with the requirements of the Directive on the energy performance of buildings, which will come into force in Poland in 2021.
Last year's increase in production and sales translated into higher employment. In 2017 the VELUX Group in Poland and its sister companies hired five hundred new employees (a 12 percent increase). In total, the group has more than 4,250 employees in Poland.
The VELUX Group has four production facilities in this country – two in Gniezno, one in Namysłów, and one in Wędkowy near Tczew. Last year the group invested more than PLN 100 m in their development. Cumulatively, the investments made over the last three years have reached the value of PLN 310 m.
"From the outset it has been our policy to regularly grow our business with the long term perspective in mind. Our achievements last year include the completed extension of the fitting factory in Gniezno and the installation of a biomass boiler in our production facility in Namysłow, which will bring an approx. 80 percent reduction in demand for gas used for process heat and hall heating by taking advantage of production waste," Jacek Siwiński said.
The latest project, which has just been handed over for use, is the distribution centre at the Window Village in Wędkowy (Pomerania), which hosts Poland's largest window factory. The project, which cost PLN 22 m, will help increase this year's window production by another 10-15 percent and create one hundred new jobs.
"We believe that 2018 will also be successful. At the moment, the demand is still strong and the market is hot and this will be conducive to further sales increases. We will provide our customers with more new products, including energy efficient triple-pane roof windows in the premium segment and many more, which will hopefully be equally well received. We are optimistic," President of VELUX Poland said.
"The future of the window and door industry is looking bright, with the construction markets developing in the EU and in Poland. This not only covers housing, but also commercial construction, offices, public utility buildings, shopping centres and other stores. We predict that next year this market will grow by about 5 percent in Poland with the increase in exports reaching 9–10 percent," Robert Klos added.
Online
Trade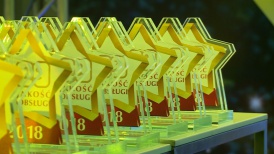 For six years the customer satisfaction index in Poland has grown by over 17 percentage points to nearly 78 percent, and it currently exceeds the customer satisfaction levels recorded in the USA and the United Kingdom. Service quality and its growing significance among businesses have had a tremendous impact on customer satisfaction. For the eleventh time the Customer Service Quality Star titles have been awarded to entrepreneurs recording the best results in this field.