News
Left with a 600,000 tonne surplus, Polish sugar producers are searching for new export markets.
| | |
| --- | --- |
| Says: | Henryk Wnorowski |
| Function: | President of the Management Board |
| Company: | Krajowa Spółka Cukrowa |
Poland produced 2.3 m tonnes of sugar last year after the lifting of the sugar-beet and sugar quotas. This has led to a surplus of more than 600,000 tonnes on the domestic market. Exports to non-EU markets might be a solution to this problem. This, however, would require an appropriate system of logistics and infrastructure. To this end, Krajowa Spółka Cukrowa will build a new terminal in the Port of Gdańsk, allowing for the exports of about 300,000 tonnes of sugar a year.
"The sugar business in Poland has been dealing with an entirely new reality since 1 October 2017. With the production quotas being lifted, all businesses may produce as much sugar as they see fit. In market terms, this has translated into a significant increase in sugar production – the last period saw a production level of more than 2.3 m tonnes of sugar," Henryk Wnorowski, President of the Management Board, Krajowa Spółka Cukrowa SA, told the Newseria Biznes news agency.
Market quotas for sugar were lifted at the beginning of October last year. Also, the minimum price for beets (EUR 26.29 per tonne) and the benchmark price of sugar (EUR 404 per tonne) are no longer applicable. Despite the production quotas being lifted, sugar-beet growers continue to receive direct subsidies. Poland will receive EUR 82 m over the next two years. These funds will be distributed between domestic sugar-beet growers.
"Those who have planted sugar beets will be eligible to receive subsidies for sugar-beet production in addition to the "standard" area-based payments. Depending on the exchange rate of Euro as at 30 September, these payments will range from PLN 1,700 to PLN 1,800 per hectare ," said Henryk Wnorowski.
Poland is the third largest sugar producer in the European Union, preceded only by France and Germany. The average annual sugar consumption in Poland is at 1.7 m tonnes. The President of KSC noted that the increased production has led to a surplus of 600,000-650,000 tonnes of sugar, which should be exported abroad.
– It's simple and difficult at the same time. It's simple because the global sugar market is an organised market. There is a sugar exchange in London which sets prices on a daily basis. The producer can sell the entire produce if the price is acceptable. However, there is a second, and more difficult, requirement – the producer has to arrange for the export of sugar as cheaply and fast as possible. Sugar is a mass product, so the only way to export it cheaply is by sea," said Henryk Wnorowski.
Krajowa Spółka Cukrowa, which has a 40-percent share of the Polish sugar market, is building a sugar terminal in the Port of Gdańsk to allow for the exports of up to half a million tonnes of sugar a year. The project includes a bulk sugar silo with a capacity of 50,000 tonnes and a flat warehouse with a packing department providing an extra capacity of 10,000 tonnes of packed sugar, depending on foreign-market needs.
"This terminal will be our window into the world, helping us to carry out the strategy of exporting at least 300,000 tonnes or, in the long run, as much as 0.5 m tonnes of sugar. These are our optimistic expectations. We want to produce more sugar but the Polish market is too small for our production capacities. In addition, the scale of production has to be substantial enough to ensure low production costs. This is why we have been looking for savings by employing economies of scale," said the President of Krajowa Spółka Cukrowa.
Trade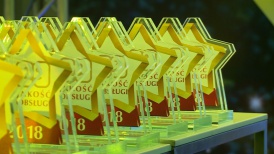 For six years the customer satisfaction index in Poland has grown by over 17 percentage points to nearly 78 percent, and it currently exceeds the customer satisfaction levels recorded in the USA and the United Kingdom. Service quality and its growing significance among businesses have had a tremendous impact on customer satisfaction. For the eleventh time the Customer Service Quality Star titles have been awarded to entrepreneurs recording the best results in this field.
Defence

As assessed by Krzysztof Krystowski, Deputy President of the Board of Leonardo Helicopters, the company which owns PZL-Świdnik, the Polish army and defence industry should undergo simultaneous modernisation. The participation of domestic entities in the army equipment tenders announced by the Ministry of National Defence (MON) is a huge opportunity. Given the scale and complexity of such contracts, their implementation will be based on strict cooperation between various Polish companies, with the potential cooperation between PZL-Świdnik and Polska Grupa Zbrojeniowa (Polish Armaments Group) in building a combat helicopter being an accurate example.
Technologies

More and more devices are becoming part of the 'smart home' concept. No longer limited to TVs or tablets, they now also include laundry machines, vacuum cleaners and even refrigerators. New ways to communicate with household appliances connected to the Internet are currently being brought to us by voice assistants. Now all that it takes to turn on the TV or switch between channels is a single voice command. A group of secondary-school students from Poland have decided to try and merge the 'smart home' concept with voice controllability. 'DAREK', the project they're working on, is addressed to disabled users to help them move around the house. Using voice control, not only will they be able to open the door or roll the blinds down but even stock up the fridge.