News
80 percent of Polish companies have to deal with overdue payments. Using online debt collection services can boost the effectiveness of the collection process.
| | |
| --- | --- |
| Says: | Bogusław Bieda |
| Function: | President of the Management Board |
| Company: | Vindicat |
As many as 80 percent of enterprises are experiencing problems receiving on-time payments from their contracting parties. At the same time, however, only a little more than a half of companies check their prospective partners before engaging in cooperation. Although the waiting time is getting shorter and is currently 3 months on average, in over 46 percent of companies one in five receivables is overdue. Modern technologies provide easier ways to collect debts. An online application for debt collection can increase the effectiveness of this process by up to a half.
"The size of the receivables market is estimated at PLN 110 bn. It's a fully-fledged b2c and b2b market, which includes private and enterprise clients. According to the estimates for the SME segment, which suffers from huge problems with unpaid invoices, the total value of overdue receivables is about PLN 10 bn. A very important problem in this segment is that enterprises are wary of losing good relationships with the few contracting parties that they have, so they think twice before they try to recover their debts," Bogusław Bieda, CEO of Vindicat, told the Newseria Biznes information agency.
As reported by the Conference of Financial Enterprises, as at Q3 2017 the total nominal value of the receivables handled per year on the Polish market was PLN 104.4 bn. Overdue payments are the scourge of Polish companies, especially in the SME sector. The "Debt collection audit" performed by Keralla Research at the request of the Kaczmarski Inkasso company indicates that as many as 80 percent of companies have difficulties collecting debts.
"The culture of debt collection in Western Europe is completely different than in Central and Eastern Europe. People often say that in Germany you pay your invoice a day before or on the day it becomes due. In Poland companies often adopt the approach that you pay when you pay, that is if a contracting party doesn't demand payment, then the payment can wait," Bogusław Bieda explained.
The "Receivables portfolio of Polish companies" study conducted by the National Debt Register and the Conference of Financial Enterprises in Poland shows that in Q4 2017 the problem with overdue payments in Poland was the least significant since January 2009. The average waiting time for payment fell to three months. However, the rate of overdue payments is growing – to 22.3 percent, which means that for every PLN 1,000 invoiced by a company, PLN 223 is not paid or is paid after it is due. The percentage of companies which did not receive at least a half of their receivables from issued invoices on time increased to 15 percent. If we take into account enterprises in which overdue receivables exceed 20 percent of all receivables, then the percentage of companies experiencing such problems will be over 46 percent.
A frequent problem is the lack of knowledge among entrepreneurs, who don't know how to enforce payments effectively and are afraid of harming their relationships with clients. Using online debt collection services can be helpful, as it guides the user around the whole process.
"In small and medium-sized enterprises, the debt collection process is mainly based on making calls to remind of the overdue payment, which could go on for up to a few months," Bogusław Bieda said. "Online debt collection gives access to an application which allows entrepreneurs to conduct various actions in relation to the debtor aimed at enforcing the payment of overdue amounts. Our studies have demonstrated that entrepreneurs who use our application are highly effective in recovering their debts, with the success rate as high as 95 percent."
A report prepared by Vindicat shows that the percentage of collected debts gets smaller with longer periods past the maturity date and higher amounts of debt. On their own, enterprises manage to recover 62 percent of receivables 90 days overdue, 55 percent of receivables overdue by 91 to 160 days and 47 percent of receivables 160 days overdue. Using the online debt collection application, they achieve a 92, 83, and 79 percent success rate, respectively.
"The success rate of our application is over 90 percent. Businesses which carry out their own debt collection recover about 60 percent, so the benefits of using the application are considerable. A low debt collection ratio often leads to financial liquidity loss in SMEs, which ends in bankruptcy," Bogusław Bieda said.
The data published in the Court and Commercial Gazette indicates that in 2017 there were as many as 900 Polish companies filed for insolvency and most of them came from the transport, services and manufacturing sectors.
Online
Trade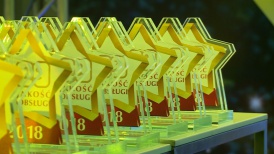 For six years the customer satisfaction index in Poland has grown by over 17 percentage points to nearly 78 percent, and it currently exceeds the customer satisfaction levels recorded in the USA and the United Kingdom. Service quality and its growing significance among businesses have had a tremendous impact on customer satisfaction. For the eleventh time the Customer Service Quality Star titles have been awarded to entrepreneurs recording the best results in this field.