News
A centre for materials of the future is being established in Poland. The centre can help our country become a leader in gas-cooled reactors
| | |
| --- | --- |
| Says: | Prof. Jacek Jagielski, PhD |
| Function: | Director of the Material Physics Department, the National Centre for Nuclear Research |
Poland has a chance of becoming a leader in the development of materials of the future. Soon, the NOMATEN Centre of Excellence will be established in Świerk to develop new materials for chemicals, radiopharmaceuticals, or the nuclear industry. The Centre will carry out research into materials resistant to extreme operating conditions using computer simulations, among other tools. At the same time, these materials could make the HTR technology a Polish specialty. Additionally, nuclear power would allow Poland to cut its gas imports and create an extra supply of power and heat.
"The project aims to create a centre which would carry out research into new materials resistant to extreme conditions – high temperatures, radiation, and corrosion – for nuclear power as well as for the chemical and energy industries. Finally, we are able to develop materials for new generations of nuclear reactors which will be producing power or heat in Poland," said Prof. Jacek Jagielski, PhD, Director of the Material Physics Department at the National Centre for Nuclear Research.
Materials resistant to extreme working conditions, robust, corrosion-proof, resistant to high temperatures and radiation are necessary, among other purposes, for designing next generation nuclear reactors and thermal nuclear reactors, also in the space industry. As the expert stressed, the newly established centre will open up possibilities beyond developing optimum materials and identifying their appropriate applications.
– We want to start from computer simulations which will allow us to predict the way that a given material will react to an extreme environment such as a nuclear reactor core or the interior of a chemical plant. Based on these insights, we will try to create a computer model of a material which will allow us to predict how the structure of the material will change. Once we're confident that such a structure is described correctly, we will start simulating the material's mechanical properties using constitutive models and finite element methods," Prof Jacek Jagielski explains.
In addition to computer simulations, scientists at the Centre will employ various analytical methods to examine the structure of the material and its functional properties, including resistance and strength. Additionally, these materials will have properties which will be predictable during their lifespan, as many as 60-100 years ahead in the case of nuclear plants. The first material which the scientists will be testing was already singled out.
"The new nickel-based alloys have the chance of being applied in HTR. On the one hand, these alloys are resistant to high temperatures; on the other, they are resistant to radiation defects, so they could be applicable, for instance, in heat exchangers or turbines powered by HTR reactors," said the Centre's expert.
The demand for such materials is huge, among other industries, in the chemical industry, where steam at a temperature of 450-550°C provides heat. That is why the NOMATEN project is directly associated with the Polish Programme for Nuclear Power and the programme for the construction of gas-cooled high temperature reactors, the so-called HTR.
"At this point, this is the only nuclear technology with which we can produce steam at a temperature of 550°C, which is the staple of the chemical industry. Our goal is to become independent from gas supplies – with gas or coal-fired plants replaced by nuclear reactors, we could cut our gas imports by 25 percent. At the same time, the HTR technology could become a Polish specialty in the EU," Prof Jagielski argued.
According to the expert, nuclear power in Poland is indispensible. EU laws impose an obligation to reduce carbon dioxide emissions to 550 g/kWh. It is impossible to reach this level with coal-fired plants, even at high efficiency.
– Either we will immediately start to produce energy from coal using non-emission technologies to reach an average below 550 g, or we will pay sizeable fines for our CO2 emissions, shut all coal power plants down, and build stations fired with gas imported from Russia. In order to meet our electricity needs, we have to go one of these ways, and in my opinion, nuclear power is the most reasonable way to go," Prof. Jacek Jagielski, PhD concluded.
Online
Trade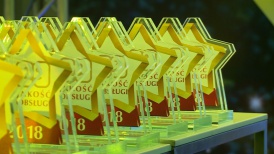 For six years the customer satisfaction index in Poland has grown by over 17 percentage points to nearly 78 percent, and it currently exceeds the customer satisfaction levels recorded in the USA and the United Kingdom. Service quality and its growing significance among businesses have had a tremendous impact on customer satisfaction. For the eleventh time the Customer Service Quality Star titles have been awarded to entrepreneurs recording the best results in this field.