News
A Polish company might just know how to fight smog. The polluted air in Polish cities to be cleaned by 'green' bus and tram stops.
| | |
| --- | --- |
| Says: | Jakub Szymanowicz |
| Function: | współzałożyciel firmy Degrum |
A company from Poland might just know how to improve air quality in cities. Green stops are to clean the air we breathe in while waiting for a tram or bus to arrive. The first stops are to be constructed within three months after an investor is found. Each year, air pollution brings death to several million people.
According to WHO estimates, seven million people died in 2016 due to breathing air of poor quality. The WHO reports that thirty out of fifty most polluted European cities are situated in Poland. This problem aggravates during the heating period when pollutant emissions originating in transport and industry are amplified by emissions resulting from household heating.
The smog problem in Poland has become so severe that increasingly modern solutions are being marketed to protect us from poor quality air. These include air purifiers for household use, air-filtering masks to be worn during walks, as well as innovative anti-smog plants and flowerpots which fight with polluted air with double effectiveness. Degrum, a company based in Poland, have announced large-scale measures to counteract smog.
"We want to turn regular bus and tram stops 'green' so that they can clean the air from smog. They will first appear in Polish cities, and then also in other European countries. The idea is to create a special filtering system to be placed in a technical room at the bus or tram stop. It will draw polluted air in, purify it and then throw it out into the inner part of the stop," explained Jakub Szymanowicz, co-founder of Degrum, in an interview with the Newseria Innowacje news agency.
The aim of the system will not be to remove smog from the entire cities, but to create clean air zones within the bus or tram stop areas where passengers gather and wait for their means of transport.
"Smog is a real problem as it impacts on human health. If it weren't for this impact, no one would pay attention to it. We are, therefore, changing the approach and, rather than eliminating smog from the entire city, will create smog-free zones," Jakub Szymanowicz said.
The green stop project has just entered the stage of searching for an investor. The producer has assured that, once the investor is found, the first green stop will appear within three months in a Polish city to be selected by way of on-line voting.
"We will set up the first green stop in the city showing the highest interest in this solution. Our plan is to act fast and create smog-free zones as this poses a significant risk for human health. However, we are mindful that this solution is of an interim character and the problem calls for systemic measures, such as eliminating low emissions and shift into electric transport. In addition, our solution promotes public transport," the Degrum representative assured.
Smog has its source largely in what is called 'low emissions', which comprise harmful gases and dust particles from transport, household stoves and furnaces, as well as local boiling rooms, which penetrate the air at a height of up to forty metres. This is why this source of pollution is so dangerous for human health. Suspended dust particles enter the respiratory system and poison the whole body, with the PM 2.5 and MP 10 particles being the most harmful.
According to the TechSci Research report, the value of the global market of air purifiers will exceed USD 19 bn in 2020.
Read also
Online
Trade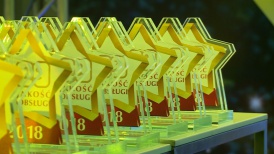 For six years the customer satisfaction index in Poland has grown by over 17 percentage points to nearly 78 percent, and it currently exceeds the customer satisfaction levels recorded in the USA and the United Kingdom. Service quality and its growing significance among businesses have had a tremendous impact on customer satisfaction. For the eleventh time the Customer Service Quality Star titles have been awarded to entrepreneurs recording the best results in this field.