News
Business angels are becoming more and more involved in supporting Polish companies. They are currently searching for 15 most promising young companies in Central and Eastern Europe
Says:
Ludwik Sobolewski, Co-Founder of Cornerstone Communications

Robert Ługowski, CobinAngels
Support offered by business angels to young companies in Poland is still much smaller than in developed Western European countries, but it is continuously increasing. Several hundred people are dealing with such investments, while in Germany or the United Kingdom, there are several thousand such individuals. They not only help to acquire capital but also support companies with knowledge of corporate governance, information policy and investor relations. Such support will also be offered to the winners of the CEE-Released competition, which will select 15 best young companies at an early stage of development in Central and Eastern Europe.
Companies from all countries and markets of Central and Eastern Europe, i.e. Albania, Austria, Bosnia and Herzegovina, Bulgaria, Croatia, the Czech Republic, Estonia, Greece, Hungary, Latvia, Lithuania, Macedonia, Moldova, Montenegro, Poland, Romania, Serbia, Slovakia and Slovenia can participate in CEE-Released.
"The qualified enterprises from these countries include those which stand out in terms of prospects for growth and innovativeness, and which are fighting for their market niche. They are joined by newly established endeavours. They have their own histories but are still young enterprises. This is the local level, with this local nature being really extensive, encompassing our entire region," Ludwik Sobolewski, Co-Founder of Cornerstone Communications explained in an interview for the Newseria Biznes information agency.
Then, from among the companies selected at the national level, the jury will select the fifteen best entities in Central and Eastern Europe. These will include entities, which, according to experts, are likely to attract the greatest attention among investors, providing opportunities for the highest profit.
All finalists will be covered by an individually prepared programme, which will help them boost their development, attract customers, increase revenue and move to the subsequent stages of development.
"The objective of this competition is to extend their business contacts and provide them with specific information on capital acquisition methods, both on public, such as stock exchange, and private markets. The competition will also aim at familiarising these companies with international standards on corporate governance, information policy and investor relations, meaning all what companies need in a contemporary economy should they want to conquer some part of the world no matter how big or small it may be," Ludwik Sobolewski said.
As he highlighted, this competition is especially intended for companies with global ambitions.
"We are talking here about those entities which already have some market experience in attracting customers and acquiring revenue, but are yet to transition into their next stage of development, when it is necessary to extend their market reach, obtain funding and find business partners. This programme is first and foremost dedicated to such companies, about which the jury will think that they were established and have operated with the international market in mind," explained one of the originators of the CEE-Released competition.
The competition is supported in the individual countries by the local networks of business angels. In Poland, Cobin Angels is such an institution. It brings together private investors who support young companies not only with their capital, but also with their experience and business contacts. In Poland there are still few people who decide to make such investments.
"The market of business angels in Poland, and also in other, more developed, countries, operates in such a way to make it possible for people interested in investing in and supporting companies in the initial stages of their development to engage their capital, experience and business contacts, and to support such companies financially as well as in other aspects of running their business. This phenomenon is referred to as smart money," said Robert Ługowski, Managing Partner at the Cobin Angels network of business angels. "When observing the French and British markets, where dozens of thousands of people invest in such a way, we can see that the Polish market has much room to grow."
The CEE-Released project is a private initiative, financed with no participation of public funds. At the regional level it is supported by the Corner Communications investor relations agency and the European Business Angel Network (EBAN).
Read also
Trade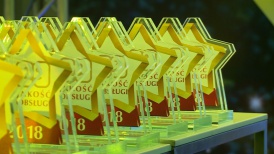 For six years the customer satisfaction index in Poland has grown by over 17 percentage points to nearly 78 percent, and it currently exceeds the customer satisfaction levels recorded in the USA and the United Kingdom. Service quality and its growing significance among businesses have had a tremendous impact on customer satisfaction. For the eleventh time the Customer Service Quality Star titles have been awarded to entrepreneurs recording the best results in this field.