News
Business meetings are changing their nature. Not the price but the quality of service and location of a restaurant are becoming more and more important.
| | |
| --- | --- |
| Says: | Robert Skubisz |
| Function: | Chef |
| Company: | The Amber Room Restaurant |
Polish entrepreneurs are placing increasing importance on the organisation of business meetings. Prices are becoming less and less important, with the quality of service and location being the major factor. Company owners increasingly often choose for this purpose cosy restaurant rooms in city centres. Additional attractions such as live cooking and healthy, light menus are enjoying a surge in popularity.
A business meeting is a good opportunity to showcase the company to a potential customer or to discuss objectives and development strategies with fellow employees. The success of such meetings depends on their appropriate organisation, primarily on selecting a prestigious and interesting venue. Polish entrepreneurs are becoming more and more aware of the importance of business meetings and their course.
"Corporate business meetings have recently changed their image in respect of the usability of restaurants or conference and hotel spaces. Nowadays price is irrelevant, but previously people responsible for this would focus on competitive pricing," Robert Skubisz, Chef at the Amber Room Restaurant, told the Newseria information agency.
These days, the organisers of business meetings pay most attention to the quality of service. They also place significant importance on the venue. A restaurant should be located in the city centre to facilitate convenient access for all participants. When there are visitors from abroad, choosing a restaurant near the airport is a good idea. Also the restaurant interiors and technical facilities are important. It should enable the organisation of a videoconference and computer equipment use, and have good Internet access.
"Often these meetings are held in closed, small offices. Restaurants usually have small rooms, when compared to hotels, and more and more companies are looking for venues to organise meetings for 30-40 people with a more cosy atmosphere, where you can focus on important problems," Robert Skubisz said.
A growing number of companies decide to organise business meetings in a garden terrace or garden. Additional options which make the meeting more attractive, such as live cooking, are enjoying quite a popularity and further integrate the team.
The menu offered at such events is adjusted to the organisers' needs, with healthy menus becoming increasingly fashionable. Light breakfasts and lunch meetings are also popular.
"It is also worth noting the delicate, small starters, which do not interrupt the meeting and can be consumed conveniently. Buffet options are rather rare. However, we do provide such offers, which incorporate a break during which the guests can comfortably eat their meals. This is to refresh the mind, but such offers come second," Robert Skubisz said.
The organisers of business meetings occasionally ask to add alcoholic beverages to the menu. Should they opt for such an option, the type of alcohol is adjusted to the time of the year, with heavy alcohols enjoyed in the winter, and delicate white wines and cocktails which go well with lighter menus preferred in the spring and summer.
"As regards business breakfasts, I would recommend delicate prosecco or white wine, and for dinner delicate red wine, not very complex in terms of taste, or a cool fruit cocktail," Robert Skubisz stated.
Business meetings are usually organised between March and June and from September to November. In order to make sure that the selected venue will be available, it is best to start preparations a month in advance.
Trade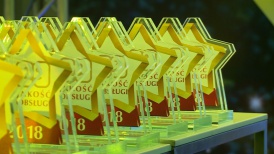 For six years the customer satisfaction index in Poland has grown by over 17 percentage points to nearly 78 percent, and it currently exceeds the customer satisfaction levels recorded in the USA and the United Kingdom. Service quality and its growing significance among businesses have had a tremendous impact on customer satisfaction. For the eleventh time the Customer Service Quality Star titles have been awarded to entrepreneurs recording the best results in this field.