News
Businesses are investing more and more. By the first half of this year, the leasing volumes of machinery and equipment may go up by as much as 20 percent.
| | |
| --- | --- |
| Says: | Szymon Kamiński |
| Function: | prezes zarządu |
| Company: | BZWBK Leasing |
With a nearly 16-percent growth, last year was very successful for the leasing sector. The greatest boost could be observed in the segment of light passenger and delivery vehicles as well as in machinery and equipment. The latter segment has also continued to grow at a fast pace since the start of 2018. During the first half of this year we may expect these figures to go up by as much as 20 percent, as assessed by the BZ WBK Leasing experts. This can be attributed to the increased volume of investments made by businesses.
The data of the Polish Leasing Association shows that in 2017 the industry had grown by 15.7 percent, putting in a total of PLN 67.8 bn to finance the investments made by Polish companies. Last year, the customers of leasing firms mostly financed passenger, commercial vehicles and trucks up to 3.5 t (a 45-percent share in the market), machines and other equipment including IT (27.2 percent) and heavy transport (25.9 percent).
"The first quarter of 2018 has turned out excellent for the leasing sector. We haven't gathered all the market data yet, but this growth seems likely to oscillate around 20 percent year on year. This is especially pleasing as BZ WBK Leasing is growing at more than 30 percent, which means that we are far above the market average. This makes us proud, especially that it's accompanied by impressive financial performance. And performance is what counts for our clients, because it guarantees a stable loan policy and quality customer service," Szymon Kamiński, President of the Board at BZ WBK Leasing told Newseria Biznes.
The growth of the leasing market, both in 2017 and Q1 2018, was largely driven by the financing of passenger, commercial vehicles and trucks, going up by close to 22 percent year on year. The value of all light vehicles financed through leasing or loans in 2017 reached PLN 30.5 bn.
"The machinery and equipment category is also recording substantial growths, which makes us especially happy as it puts BZ WBK Leasing at the top of the market. Still, almost every real estate financing category shows great performance, probably much over the market average. We expect the second quarter to be just as good," Szymon Kamiński says.
BZ WBK Leasing wants to develop evenly across various product categories and strengthen its position as a universal leasing firm, not only in terms of asset types but also customer segments. The company's president believes the whole year 2018 will be as successful as the previous years, mostly thanks to the expected high economic growth.
"A higher than 4 percent economic growth is rarely to be seen on the European markets. An economic growth driven by high, stable consumption and rising investments has all that's required to be considered 'balanced'. It can be seen from the signals which we receive from our clients that the investors are bolder in their actions and have more investment appetite. This is evident in all asset categories, but especially in machinery and equipment investments," says Szymon Kamiński.
A promising sign for the market were also the recent announcements that percentage rates would be kept at a low level – this is good news for the leasing industry clients.
Trade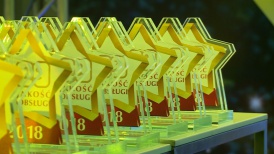 For six years the customer satisfaction index in Poland has grown by over 17 percentage points to nearly 78 percent, and it currently exceeds the customer satisfaction levels recorded in the USA and the United Kingdom. Service quality and its growing significance among businesses have had a tremendous impact on customer satisfaction. For the eleventh time the Customer Service Quality Star titles have been awarded to entrepreneurs recording the best results in this field.