News
Educational robots in over 300 Polish schools. They develop together with children while learning how to programme.
| | |
| --- | --- |
| Says: | Michał Grześ |
| Company: | Photon Entertainment |
Programming education has become a permanent feature of education. In over 300 Polish schools children learn how to programme using Photon robots. These devices develop together with children, and are intended even for pre-school children. More and more initiatives of this kind are appearing on the market. Manufacturers provide devices which children can assemble and programme themselves using applications, usually based on the Scratch programming language.
"We tell children a story about a robot from another planet which travelled the space and had to land on Earth because of a crash with an asteroid. As a result of this accident, it forgot almost everything, so children must solve a series of problems to develop the robot using the collected points, i.e. to increase its speed, discover new sensors, colours, and remove limitations originally imposed on the robot," Michał Grześ from Photon Entertainment explained in an interview with the Newseria Innowacje information agency.
Photon is an interactive, programmable robot which develops together with the child. It teaches the child how to programme, how to think logically and how to solve problems using an interactive application. In total, the child must complete more than 150 tasks in which he or she communicates with the robot through programming. In addition to the consumer version available in stores, the producer also supplies its robots to schools.
"We have an important educational mission which teaches children in schools how to programme and how to think logically through special scenarios, and therefore develops those skills, which nowadays appear naturally crucial. Photon is currently available in over 300 schools in Poland," Michał Grześ said.
Photos is not the only robot to support programming education in schools. Mindstorms EV3 by Lego makes it possible to use bricks and additional elements to create automated beings such as vehicles, machines and inventions with motors and various sensors. Lego bricks can be used to build robots which can walk, shoot, grab and even talk. Basic actions of the constructed devices can be controlled using a remote control, while more advanced functions can be accessed after downloading a special app.
Makeblock, a Chinese producer, offers a series of ready-made educational robots which can be programmed. These are available in various versions. For example, Airblock is a modular drone whose design can be changed by the students by connecting motors to the control module. A special app for Android and iOS devices facilitates the control and programming of the device.
The prices of educational robots and sets for their creation range from several hundred to nearly PLN 2,000 depending on their technological advancement and functions.
According to analyses made by Markets and Markets, by 2020 the world market of programmable robots will be worth 2.4 bn dollars.
Read also
Online
Trade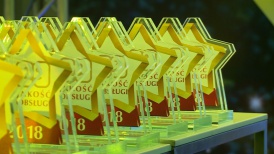 For six years the customer satisfaction index in Poland has grown by over 17 percentage points to nearly 78 percent, and it currently exceeds the customer satisfaction levels recorded in the USA and the United Kingdom. Service quality and its growing significance among businesses have had a tremendous impact on customer satisfaction. For the eleventh time the Customer Service Quality Star titles have been awarded to entrepreneurs recording the best results in this field.