News
Every third business in Poland has developed a digital strategy. Investments in new technologies have had the strongest impact on services, the trade sector and marketing
Says:
Jarosław Sokolnicki, Head of Industry Solutions, Microsoft
Maciej Buba, Digital Director, Pizza Hut
Krzysztof Blusz, Global Expansion Director, Synerise
Digitalisation has become a necessity and a priority for business, regardless of the size of the organisation and the industry. It is a condition for keeping up with the market, making it possible to create new business models and to provide an improved real-time response to customer needs. Digitalisation also impacts consumers themselves, whose awareness and expectations are rising. It exerts the strongest impact on the sectors which are closest to customers: services, retail trade and marketing. Every third business in Poland has already defined its digital strategy.
"Digital transformation is no longer a choice but an absolute necessity. This is visible in the examples of companies which were first to digitise their operations and are now celebrating their successes. Other businesses must follow in their footsteps, which is already the case for many companies, with varying effect. Digital transformation is currently one of the main subjects considered by the managements of companies of all sizes and across all sectors," Jarosław Sokolnicki, Head of Industry Solutions at Microsoft, told the Newseria Biznes agency.
Digital transformation is an integral element of the business strategies of Polish companies. As shown in the "Digitalisation leaders" survey carried out in November 2017 by Microsoft and CIONET, 36 percent of enterprises in Poland have already defined their digital strategies. In 56 percent of cases such projects are a top or high priority matter for the development of the entire company. In every third (29 percent) company the digital transformation leader is a member of the top management.
For enterprises, digitalisation stands for being an effective market competitor, creating new business models, products and services, and evolving means of communication and cooperation with customers. It also impacts consumers themselves, who display an increasing awareness and set the directions for the development of services and new sales and customer service models.
Maciej Buba, who is responsible for digitalisation at Pizza Hut, adds that in the restaurant sector new technologies are the key process for market development.
In recent years we have strongly developed our e-commerce business. We have introduced solutions for making orders at our restaurants using a mobile app. We are working intensively on logistics solutions so that our food could reach customers on time. "We are the only restaurant chain on the market to have partnered with a review site by buying Pizza Portal shares in Poland, thanks to which we have increased our capabilities of transforming the sector and reaching our customers," Maciej Buba explained.
Krzysztof Blusz, Global Expansion Director, Synerise, states that with new technologies the marketing industry has applied a customer-oriented approach. The modern marketing platforms enable us to create new marketing solutions, tracking customer experience from the first contact with the brand to the final buying decision or even further, including maintenance and post-sales customer service. A suitable tool makes it possible to collect and analyse data, which can be used to create a personalised campaign or a product or service package using the channels most convenient for the customer.
"The recent most pronounced trend in the development of new marketing involves solutions using the computing power of machines, such as artificial intelligence and machine learning processes, colloquially referred to as algorithms. This is an attempt to gain new knowledge on customer needs based on large databases in real time. This way we are able to better understand customer preferences, behaviour and expectations," Krzysztof Blusz said.
Digital transformation was the main theme of the Digital Business Transformation Summit. It is one of the largest interactive meeting points for leaders in digitalisation and new business solutions from the four Polish market sectors: finance & insurance, trade & services, industry & power, and cities & health.
Trade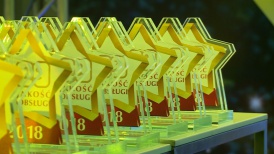 For six years the customer satisfaction index in Poland has grown by over 17 percentage points to nearly 78 percent, and it currently exceeds the customer satisfaction levels recorded in the USA and the United Kingdom. Service quality and its growing significance among businesses have had a tremendous impact on customer satisfaction. For the eleventh time the Customer Service Quality Star titles have been awarded to entrepreneurs recording the best results in this field.