News
Finnish innovations can improve the efficiency of Polish agriculture. Companies from Finland are looking for partners to cooperate with in Poland
| | |
| --- | --- |
| Says: | Elina Puszkarzewicz |
| Function: | Director of the "Agrotechnology from Finland" programme |
Finnish agricultural technologies are known worldwide for their high quality and efficiency. This is due to the climate conditions and high investments in research and development. Cutting-edge Finnish technologies can also increase the efficiency of Polish agriculture. Their machine producers and companies operating in the field of agrotechnology are looking for partners and distributors in Poland.
"We have conducted an analysis of the Polish market and discovered some really interesting business opportunities for Finnish enterprises. Some agrotechnology companies from Finland have already established their daughter companies in Poland or work with authorised distributors. We know that the domestic market shows high demand for Finnish technology," Elina Puszkarzewicz from Business Finland in Helsinki, Director of the "Agrotechnology from Finland" programme, told the Newseria Biznes news agency.
Finnish agricultural technologies are famous worldwide for their high quality and efficiency. The harsh climate conditions in Finland and short harvesting period force Finnish producers to pay extra attention to the maintenance of machines and devices, quick service and availability of spare parts. This allows them to minimise the period of machines being out of operation. In order to maintain their reliability, Finnish companies allocate substantial funds for their innovative and R&D activities.
"Finland is famous for its innovativeness. Most of our companies in the agrotechnology sector invest a lot in research & development activities. For example, such great brands as Valtra invest up to 3 to 5 percent of their turnover in R&D. This is one of the reasons why we seek cooperation with Polish companies. It is a strong part of our operations. We want to implement here several pilot programmes with Polish companies, Elina Puszkarzewicz stated.
Finland-based machine producers and companies operating in the field of agrotechnology are looking for partners and distributors in Poland. Enterprises from the segment of technology for breeders and wood industry are also interested in cooperating and entering into long-term agreements. Scandinavia innovations can have a positive impact on Polish agriculture by increasing its efficiency.
"In addition to focusing on research and development activities, we are also developing various solutions conducive to sustainable development, such as energy-saving systems. In Finland and the whole of Scandinavia, the topic of circular economy has lately become very popular. We are creating interesting projects in this field as well," highlighted the Programme's Director Elina Puszkarzewicz.
The Agrotechnology from Finland programme, which promotes agricultural Finnish technologies around the world, sees Poland as one of its priorities for 2018. An economic mission of leading Finnish agricultural technology suppliers visited Warsaw in March. They presented such solutions as modular feed mixing plants, agricultural biomass processing stations, an automatic bedding replacement system for dairy farms, and mobile grain dryers.
Polish companies and entities interested in cooperating with Finnish companies can apply to the Warsaw office of Business Finland, a sales representation operating at the Finnish Embassy.
"Poland is among the key markets for our Agrotechnology from Finland programme. It concerns three sectors: agricultural machinery, solutions for breeders and forestry machinery. Since Poland ranks first in terms of the number of farmers and farming companies, it is a very interesting market for Finnish entrepreneurs," Ms Puszkarzewicz said.
Trade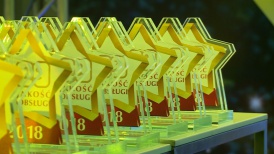 For six years the customer satisfaction index in Poland has grown by over 17 percentage points to nearly 78 percent, and it currently exceeds the customer satisfaction levels recorded in the USA and the United Kingdom. Service quality and its growing significance among businesses have had a tremendous impact on customer satisfaction. For the eleventh time the Customer Service Quality Star titles have been awarded to entrepreneurs recording the best results in this field.