News
Fintech solutions are revolutionising the banking sector and online shopping. In two years they will be used by more than half of all people in Poland
| | |
| --- | --- |
| Says: | Michał Papliński |
| Function: | country manager |
| Company: | TWINO |
The Polish fintech market, which includes companies providing financial services with the application of technological solutions, is one of the largest among Central and Eastern European countries. Its value is estimated at almost EUR 860 million. Every fifth Polish citizen is already using fintech solutions, and by 2020 the share is to rise to almost 50%. The dynamic development of fintech solutions enforces changes in the banking sector, taking the form of, e.g., instant online payment or instant borrowing instruments. Innovative solutions also have an impact on the development of online trade.
"There is no single set of characteristics that an enterprise must have to be considered a fintech company. The word "fintech" means a finance and technology company, which is any company offering state-of-the-art financial solutions to its clients," emphasised Michał Papliński, Country Manager at TWINO, in a conversation with the Newseria Biznes agency.
In its "CEE FinTech Report", Deloitte assessed that the Polish fintech market is worth almost EUR 860 m. At the same time, Poland is the leader in this area in the Central and Eastern Europe. More than 20% of Poles are using the services of fintech establishments, although some of them may not be aware of that; in comparison, the percentage for the United States is 15%. By 2020 these solutions will have been used by more than half of all people in Poland.
"The development of the fintech sector has forced banks to introduce substantial changes; banks need to invest a lot in new technologies. In 2016 alone banks closed more than 200 offices, which definitely results from the impact of the fintech industry," Papliński points out.
According to a report called "The Financial Sector is Going Fintech" by PwC, a global advisory company, almost two-thirds (57 percent) of bank customers would be willing to replace human advisers with a technological solution, and fintechs are likely to take over up to 33 percent of the international financial services market in the years to come. This is why banks are introducing new solutions, usually developed by fintech start-ups, which are to help them compete effectively with other market players.
"These are instant online payments and instant borrowing, i.e. instant online loans. It is worth recalling that as recently as a dozen or so years ago in order to borrow money the client had to come to bank with an ID, a certificate from their workplace and fill in rather complicated applications, and the whole procedure lasted from several days to around two weeks. Now it is enough for the client to complete an application on the lender's website in less than a minute and get the loan in around fifteen minutes. In our company more than 80% of clients receive their loans in less than 15 minutes," TWINO's expert emphasised.
Solutions offered by fintechs are revolutionising not only banking services but the whole e-commerce sector. The e-commerce market in Poland is estimated at PLN 40 bn. More than half of Poles (54%) state that they do shopping on the Internet, and in the last decade the number of people shopping online recorded an almost twofold increase (from 29.7% in 2007). Greater trust in online purchases contributes to a growing interest in this form of shopping. From 2016 it has grown by more than 12%.
"The increasing interest in e-commerce goes together with the rising customer requirements related to safety, convenience and transaction time. Fintech companies are able to meet all these requirements and support e-commerce," Papliński argues.
As polls carried out by Gemius show, 49% of clients select online shopping because of the various payment options to choose from. They usually prefer cash on delivery and electronic banking payments (16% and 12%, respectively). In the near future some online shops may introduce cryptocurrency payments. The data published by Loando.pl indicate that more than 40% of online loans are raised using a smartphone.
"Over a decade ago the only payment forms available for online shopping were credit cards, regular banks transfers, which took at least one day, and cash on delivery. With fintech solutions, the options include instant online transfers, deferred payments in the form of loans paid in instalments or with a one-off repayment, and also mobile payments," Michał Papliński points out.
Trade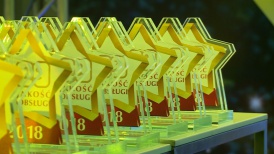 For six years the customer satisfaction index in Poland has grown by over 17 percentage points to nearly 78 percent, and it currently exceeds the customer satisfaction levels recorded in the USA and the United Kingdom. Service quality and its growing significance among businesses have had a tremendous impact on customer satisfaction. For the eleventh time the Customer Service Quality Star titles have been awarded to entrepreneurs recording the best results in this field.