News
NBP: This year, consumer prices will grow at a slightly faster rate than a year before. They will be driven up primarily by growing food prices.
| | |
| --- | --- |
| Says: | Jacek Kotłowski |
| Function: | Vice-Director, Economic Analysis Department |
| Company: | National Bank of Poland (NBP) |
According to the latest National Bank of Poland inflation report, this year prices in Poland will grow at an average rate of 2.1 percent. This is less than expected in November, when inflation was predicted at 2.3 percent. At 3.3 percent, food prices are expected to increase the most. However, the projected GDP growth has been revised upwards.
"We haven't broken down inflation into individual products. Rather, we've broken it down into core inflation, which will be relatively low, and food and energy price inflation, which will be higher than core inflation, but lower than a year before," said Jacek Kotłowski, Vice-Director of the Economic Analysis Department, in a conversation with the Newseria Biznes agency. "Above all, we've been seeing a gradually increasing demand pressure and cost pressure in the economy, the economic growth rate is high and the labour market situation is very good; the number of workers is growing, too, which causes an increase in unit labour costs, which are the key driver of inflation in the long term."
National Bank of Poland economists believe that in 2018 core inflation (or inflation excluding food and energy prices) will grow faster than a year before, when it was at 0.7 percent. This year's core inflation is predicted to more than double to 1.6 percent. However, four months earlier, NBP predicted that it would come close to 2 percent (1.9 percent). Energy prices will go up by 2 percent, much less than predicted previously (2.7 percent). Food prices will see the sharpest increase – of 3.3 percent. While this bumps up the overall inflation, it will grow at a much lower rate than in 2017, when food prices went up by 4.3 percent, according to NBP. Data provided by the Central Statistical Office, which broke down prices into food only (excluding beverages and tobacco products) show that the prices went up by even more – 4.6 percent. This is why the price-growth projection for the year was revised.
"I don't think it's a high inflation rate. Actually, it is a global development, as we're seeing all over the world that inflation is relatively low despite good economic conditions. Inflation is low in almost all countries," Jacek Kotłowski said. "The Polish zloty continues to be a strong currency; we've recently had a certain exchange rate appreciation, and the Polish economy remains very competitive, with unit labour costs continuing to grow relatively slow. Also, price conversion is relatively slow. So, in relative terms, Poland is a cheap country compared to other EU countries," he added.
Price growth is stimulated by the growing income and expenses of Poles, but the growth is slow. The underlying reasons include both the good condition of the economy, good global economic conditions, especially when it comes to Poland's largest trade partner, the European Union, and the Family 500+ child benefit programme, as well as the record-low unemployment rate. Throughout 2017 and in Q4 2017, the Polish economy grew at a rate we had not seen for six years. Furthermore, major EU- and local-government-funded projects finally took off after the investment slack in 2016. In the last three months of 2017, the pickup was in double figures.
"Public investment will be probably the first to pick up, as already reflected in available data, but we're expecting to see private investment as well, except later," assured the Vice-Director of the Economic Analysis Department, NBP. "On the one hand, public investment will be stimulated by a high utilisation of production capacities in the economy, a good demand outlook and cheap financing. On the other hand, public investment plays a somewhat complementary role in that contractors will probably have to make their own investments in order to meet the requirements of public contracts."
According to NBP, Poland's GDP in 2018 will increase by 4.2 percent. Last year's GDP increase was at 4.6 percent. This figure exceeds the November projection, which predicted a 3.6 percent GDP increase, as well.
Trade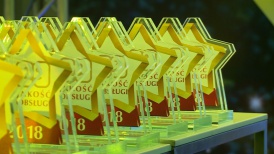 For six years the customer satisfaction index in Poland has grown by over 17 percentage points to nearly 78 percent, and it currently exceeds the customer satisfaction levels recorded in the USA and the United Kingdom. Service quality and its growing significance among businesses have had a tremendous impact on customer satisfaction. For the eleventh time the Customer Service Quality Star titles have been awarded to entrepreneurs recording the best results in this field.