News
Nearly 50 percent of Polish people consider their knowledge of finances considerable. The largest gaps are related to taxes and cybersecurity
| | |
| --- | --- |
| Says: | Waldemar Zbytek |
| Function: | Deputy President of the Management Board |
| Company: | Warsaw Institute of Banking |
Polish people consider their knowledge of finances to be considerable, and the areas in which they feel they have the largest gaps are cybersecurity and the tax system, a study by the Warsaw Institute of Banking entitled "Financial Education among Polish People 2018" finds. The most favourable assessments of their knowledge were given by young, high-earning people who lived in large cities. Critical opinions were expressed on the formal education regarding finances.
As many as 44 percent of respondents declared that they had considerable knowledge of personal finances. And only 17.4 percent considered their knowledge of saving, investing and old-age pensions to be poor. Slightly more favourable opinions were given by men, compared to women, with 20 percent of the latter admitting to having very limited knowledge of personal finances.
"While men admittedly have a more favourable view of their economic knowledge, in practice, as we know, in terms of economic knowledge and experience, women actually exhibit better behaviour, as they are the ones who often manage household budgets," Waldemar Zbytek, Deputy President of the Management Board, Warsaw Institute of Banking, told Newseria Biznes.
The most favourable views of such knowledge are held by people aged 30 to 39, as 58 percent of them consider their grasp of such issues to be sound. The least such declarations – only 19 percent – were made by older people. The level of awareness also proved to be correlated with income. It turns out that the higher the income, the better the knowledge of the rules governing the world of finance. Favourable assessments in this area were given by people who earned between PLN 3,000 and PLN 4,000 a month and those who earned more than PLN 5,000 (67 percent and 72 percent of respondents, respectively). Limited or very limited knowledge of finances was reported by as many as 30 percent of people aged 18 to 29.
"People with lower income admitted to lacking knowledge and needing intensive training," Waldemar Zbytek explained.
In addition, the perception of one's knowledge of finances and financial education proved correlated with where respondents lived.
"Those who live in large cities tend to be more critical of the education system in this area. However, an overwhelming majority agrees that education about finances, economy, entrepreneurship and cybersecurity needs to be extended and developed, because today there is virtually no finance or economy without the internet and issues related to cybersecurity," Waldemar Zbytek clarified.
Indeed, cybersecurity was the area in which Polish people believed they had the largest gaps in knowledge. This was the case with 38 percent of respondents. Men were slightly more likely to feel that way than women (40 percent vs 36 percent). The same was true for their knowledge of taxes, with 39 percent of men and 32 percent of women admitting to having gaps in this area. Young respondents, aged 18 to 26, declared that the largest gaps in their knowledge were related to retirement pays (49 percent) and credits and loans (46 percent).
"Respondents answered that they believed the formal education system to be rather ineffective. They said that such formal education in schools related to entrepreneurship needed to be extended to include cooperation with institutions operating in the financial sector, practitioners and businesspeople, so that the level of education in Polish schools in general was improved," Waldemar Zbytek said.
The importance of sound economic knowledge in life is appreciated by more than half Polish people. Respondents admitted that having the necessary knowledge of finances and economy helped them prevent risks, such as falling into a debt spiral or losing one's savings as a result of poor financial decisions, but also made it easier to secure the funds necessary for the achievement of private and professional goals.
"Polish people believe knowledge of finances and economy is useful in everyday life. This is not only about investing or assessing how risky specific financial operations are, but mainly about the desire to learn about the financial system so that you can effectively manage your own budget throughout your life," Waldemar Zbytek added.
A survey by the Institute for Social Research and Market (IBRiS) has found that the public education system currently devotes insufficient amount of time to providing young people with knowledge on finances, with as many as 73 percent of respondents believing so. The development of financial skills among Polish people is to be supported by a programme entitled "Banking experts for education".
"We will organise workshops for teachers at multiple levels of education, because we are cooperating not only with schools but also with universities. We are implementing educational projects not only for children, teenagers and students, but also for older people. At the moment, we are cooperating as part of the programme with more than 800 institutions, including 400+ local government bodies," Waldemar Zbytek said.
The programme carried out by the Warsaw Institute of Banking is one of the largest financial education programmes in Europe. Its organisers expect that by the end of 2018 it will reach 350,000 schoolchildren, students and older people via 9,000 lessons, lectures and meetings at 120 universities and 800 primary schools across Poland.
"Such education can take various forms, from face-to-face meetings during lessons in Polish schools to games, contests, electronic forms, films and press materials. We are cooperating with many media outlets and magazines in Poland, including trade periodicals, because we target specific communities and aim at reaching specific age groups with individually tailored content," the Deputy President of the Warsaw Institute of Banking emphasised.
Events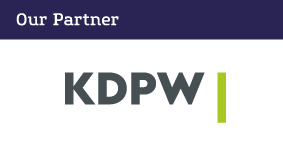 Energy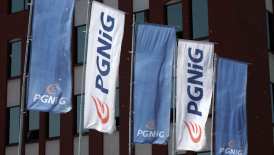 Polskie Górnictwo Naftowe i Gazownictwo is investigating the possibilities of using unmanned aircraft systems to, i.a., detect gas leaks and monitor gas pipes. The systems are already used for geodetic measurements. The objective of using drones is not only to streamline the company's operations but also to save millions. Currently PGNiG is cooperating with a start-up on using a new type of UAS for the company's purposes.
Industry

In 2017 Polish companies exported goods with a value exceeding EUR 203 bn, and this year the results may be equally favourable. The economic situation of our major recipients in the EU is improving, and consumer and producer sentiments are on the rise. Machinery parts and food are our export hits, but, as experts point out, Polish exports are diversified and do not rely on a specific group of products, while domestic companies often find their market niches. In the years to come, even if the growth rate in exports decelerates, the share of Polish producers in the global market will still increase because of the relatively low prices.
IT and Technologies

Data transmission using 5G technology is to be ten times faster than in 4G, and in the future the technology is expected to power efficient communication between tens of billions of devices. First tests of this next-gen mobile network will be carried out by Orange Polska as early as in 2019. This is also when the first 4G and 5G smartphones will land in shops. Technology roll-out has been planned for 2020–2021. The development of 5G networks will be based on such milestones as securing appropriate wavebands and building new infrastructure.