News
Not only migrants from the East are supporting entrepreneurship development in Poland. Government also plans to involve young and 50+ citizens
| | |
| --- | --- |
| Says: | Jerzy Kwieciński |
| Function: | Minister of Investment and Economic Development |
"Labour shortages might hinder entrepreneurship in Poland. The Government is planning to reach out to young people and to unlock the potential of 50+ citizens, while also relying heavily on immigrants from the East," reveals Jerzy Kwieciński, Minister of Investment and Economic Development. Today, 40 percent of companies are employing Ukrainians, and 10 percent Belarusians. However, it is necessary to create good working conditions and ensure decent wages and salaries. Without these, after obtaining the necessary qualifications, foreign nationals will move to Western European countries.
"We are facing a problem we once could only dream of. Our unemployment rate has dropped markedly, and the demand for work in our economy is strong. This is also because of some major investments we are implementing. But this is indeed a serious problem on today's job market," said Jerzy Kwieciński, Minister of Investment and Economic Development in an interview with the Newseria Biznes agency.
As reported by Statistics Poland, the unemployment rate in February 2018 dropped to 6.8 percent (from 6.9 percent in January). It has stayed at record-low levels for several months now. Nearly all industries complain about labour shortages. This is to a large extent due to demographics. Deloitte has reported that by 2050 there will be a labour shortage of some 10.6 m people aged 18–44. This could be remedied by migrants from the East.
"We are receiving an influx of migrants from Ukraine and Belarus, the countries which are struggling with their domestic problems. There is still war going on in Ukraine and many people are simply running away from it. We believe that it is our duty to help those people, and, besides, they are helping us solve our job-market problems," Mr Kwieciński added.
The Ministry of Family, Labour and Social Policy has reported that in 2017 employers made 1.8 m declarations of the intention to commission work to some 1.1 m foreign nationals from six countries. In terms of the number of declarations, this means an increase by almost 40 percent compared to 2016. A substantial majority (85 percent) of job permits and 95 percent of declarations concerned Ukrainian nationals. They were followed by Belarusians, with the number of declarations of the intention to commission work to Belarusian nationals increasing by 250 percent in 2017 compared to 2016 (from 23,000 to 58,000).
The Economic Immigration Barometer prepared by Personnel Service shows that today as much as nearly 40 percent of large companies in Poland are employing Ukrainians, and another 29 percent are going to hire them within the next twelve months. One in ten large companies are employing Belarusians.
"If we fail to provide proper, civilised working conditions, many of them, after acquiring the necessary qualifications, will leave to Germany, the Netherlands, Austria, or France, which would be harmful for our economy. We need to improve their living and working conditions here in Poland," Mr Kwieciński emphasised.
Data published by Upper Job show that pay expectations of Ukrainians are rising. As many as 56 percent of them would like to earn at least PLN 3,000 net, and 20 percent expect PLN 5,000. The surveys conducted by Upper Job confirm that Poland remains the most attractive market for them.
"We, as the Government, will want to use this influx of immigrants for the benefit of our labour market. But we also intend to tap some labour reserves we have here in Poland. This means greater employment of people aged 50+ and better use of young people, to help them find their place on the job market easier and faster. This also concerns people from rural areas, which continue to struggle with relatively high levels of hidden unemployment. There are still some reserves available to be dug into," the Minister noted.
At the end of 2016, the proportion of people aged 50+ in the total number of the unemployed was 28.2 percent. And the proportion of people aged 60 or more increased to 7 percent. Companies are more and more often hiring such experienced employees. A report on the labour market prepared by Work Service in late 2017 shows that almost 27 percent of companies were going to hire people aged 50+ in the near future. The unemployment rate among young people is also dropping regularly. Statistics Poland has reported that in Q3 2017 the unemployment rate among Poles aged 15-24 was 14.7 percent (a drop of 3.3 percent YoY).
"Companies have to look for workforce not only within their local environments but also in other areas with labour surplus. It is also important to establish cooperation with local partners, local government administration, schools and universities. This can help ensure a stable influx of well-educated workforce. We also encourage people to use European funds, which support lifelong learning efforts," Mr Kwieciński emphasised.
Online
Trade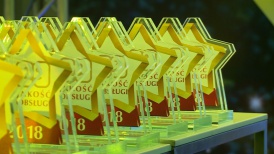 For six years the customer satisfaction index in Poland has grown by over 17 percentage points to nearly 78 percent, and it currently exceeds the customer satisfaction levels recorded in the USA and the United Kingdom. Service quality and its growing significance among businesses have had a tremendous impact on customer satisfaction. For the eleventh time the Customer Service Quality Star titles have been awarded to entrepreneurs recording the best results in this field.