News
One in three Polish start-ups is supported by business angels. New technologies and healthcare are the most popular among investors.
| | |
| --- | --- |
| Says: | prof. Panos Ketikidis |
| Function: | Vice-President of the European Business Angels Network (EBAN) |
Business angels are increasingly active in Poland. According to the Startup Poland foundation, 33 percent of Polish start-ups took advantage of the services of domestic and foreign business angels. The EBAN data shows that the three most frequently chosen industries are technology, ICT and healthcare. The Vice-President of the largest European organisation of business angels believes that the next five years will be promising for the whole CEE region, and Poland will be the first choice among investment locations.
"We have a lot of interesting sectors to choose from on the Central and Eastern European market. The most popular, which comes as no surprise, is the ICT sector. It guarantees a quick return on investment, which is very important in the risky world of investment. An average investor needs to wait 7 to 10 years before the invested money comes back. This is a long time, so everybody looks for investments that bring quick revenues and mutual benefits for the business and the investor," Prof. Panos Ketikidis, Vice-President of the European Business Angels Network (EBAN).
For start-ups and fledgling companies one of the methods of obtaining capital for development is the support of business angels (or angel investors). These are private investors who provide their own funds to projects, usually at their very early (seed-up and start-up) stages of development, taking over a specific number of shares in return. These are usually experienced entrepreneurs who have made profits on previous projects. In addition to money, they also provide their experience, business contacts, technical assistance and advice.
Business angels once helped such companies as Apple and Amazon. Such investors operate independently or as part of the Business Angels Network. Usually, they operate in less formal ways, making investment decisions based on their own experience and intuition, rather than by reading pages of analyses, reports and business plans. This also makes it easier to negotiate the conditions of supporting and leaving the investment later on, as business angels are much more flexible than ‒ let's say ‒ investment funds which follow strict rules.
"The prospects on the Central and Eastern European market for the next five years are very promising and this stimulates investment. To operate and achieve their goals, investors need appropriate infrastructure, an ecosystem of sorts. We need entrepreneurs, government support and good-quality higher education institutions providing young people with skills needed to achieve success in business," Prof. Panos Ketikidis emphasised.
In Poland – as seen in the recent report by the Start-up Poland Foundation – business angels are more and more active. Last year 33 percent of Polish start-ups took advantage of the services of domestic and foreign business angels. The study by Startup Poland indicates that this percentage should remain unchanged, with every third start-up in need of external capital resorting to business angels.
"I believe that the strength of the Polish market is in the innovative nature of Poles, their readiness to take risks and their entrepreneurial skills. It is also a large country which is the first to be considered as a potential investment location. It is extremely important to make well-thought-off choices of investments, so that they do not bring losses," Prof. Panos Ketikidis stressed.
In mid-2017 the Polish Development Fund established Biznest FIZ, under which projects will be financed through agents (co-investment funds) cooperating with business angels. Investments will be made in the 50:50 proportion, with half of the funds being provided from PFR Biznest FIZ, and the other half from the private funds of business angels.
Online
Trade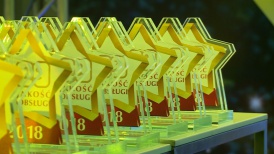 For six years the customer satisfaction index in Poland has grown by over 17 percentage points to nearly 78 percent, and it currently exceeds the customer satisfaction levels recorded in the USA and the United Kingdom. Service quality and its growing significance among businesses have had a tremendous impact on customer satisfaction. For the eleventh time the Customer Service Quality Star titles have been awarded to entrepreneurs recording the best results in this field.