News
Personal electric vehicles are the future of transport. Obsolete traffic regulations in Poland form a barrier to development
| | |
| --- | --- |
| Says: | Bogusław Foszmanowicz |
| Function: | owner |
| Company: | BMF |
Among other things, obsolete traffic regulations are a barrier to the development of the electric vehicles market in Poland. An amended act on the Road Traffic Law , which defines personal transportation vehicles, is waiting for becoming subject of the legislative process. At present, Segway vehicles are supplied mainly to companies. They prove incredibly useful as a means of transport for persons working in production halls, shopping malls and airports, but can also considerably assist people with disabilities in their daily activities.
More and more electric vehicles are being marketed. These include not only electric cars and motor scooters, but an entire range of personal transportation vehicles. The Segway, a self-balancing, two-track vehicle used for transporting one person in a standing position, was the predecessor of personal electric vehicles. This innovative vehicle did not catch on.
"Undoubtedly, we will use various vehicles with an electric motor to move about. Segway-type vehicles marked the beginning of the concept of personal transport. Unfortunately, this plan was not a success, and the Segway did not develop as planned. It was intended to revolutionise personal transport, but fell short of expectations for several reasons. These included its price and the lack of roads adapted for the movement of such vehicles," Bogusław Foszmanowicz, owner of BMF producing Velex vehicles, told the Newseria Innowacje news agency.
At present, there are a number of improvements that stimulate the development of personal electric vehicles, owing to, among other things, co-financing from the European Union. One can travel Warsaw from end to end without any kerb, making it possible to avoid dismounting from the vehicle. Ecology also drives development. Most city centres will soon be closed to combustion vehicles, with electric ones becoming the only means of transport.
Obsolete regulations are a barrier to this. In the light of the law, the matter of using not only classic Segways and electric skateboards, but also scooters and regular skateboards or roller blades, has become unclear.
"Unfortunately, the Polish traffic code has failed to keep up with the times and vehicles present on the market. In Germany, Segway-like vehicles have their own registration plates and can be used on public roads. When we tried to obtain approval for our model in Poland, it turned out that according to the rules and regulations, it had to be treated as a motorcycle. This would entail changes in its design, installing stop lamps, indicators, mirrors and many other elements. Because of this, Segway-like vehicles can only be used on non-public roads," Bogusław Foszmanowicz indicated.
This situation was to be regulated by an amended act on the Law on road traffic, drawn up in 2016. It contained a definition of a personal transportation vehicle stating "a device by design intended for the transportation of pedestrians, pedal-driven or with an electric engine, whose design limits the driving speed to 25 km/h, and with a width not exceeding 0.9 m while in traffic". The amendment act has not been passed yet, so Segways are mainly used by companies.
According to Navigant Research, the market of light electric vehicles (including motorbikes and motor scooters) was worth 9.3 bn dollars in 2017, and will reach the value of 24 bn dollars by 2026.
Read also
Trade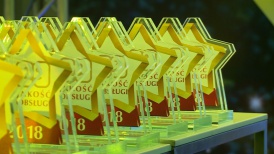 For six years the customer satisfaction index in Poland has grown by over 17 percentage points to nearly 78 percent, and it currently exceeds the customer satisfaction levels recorded in the USA and the United Kingdom. Service quality and its growing significance among businesses have had a tremendous impact on customer satisfaction. For the eleventh time the Customer Service Quality Star titles have been awarded to entrepreneurs recording the best results in this field.
Defence

As assessed by Krzysztof Krystowski, Deputy President of the Board of Leonardo Helicopters, the company which owns PZL-Świdnik, the Polish army and defence industry should undergo simultaneous modernisation. The participation of domestic entities in the army equipment tenders announced by the Ministry of National Defence (MON) is a huge opportunity. Given the scale and complexity of such contracts, their implementation will be based on strict cooperation between various Polish companies, with the potential cooperation between PZL-Świdnik and Polska Grupa Zbrojeniowa (Polish Armaments Group) in building a combat helicopter being an accurate example.
Technologies

More and more devices are becoming part of the 'smart home' concept. No longer limited to TVs or tablets, they now also include laundry machines, vacuum cleaners and even refrigerators. New ways to communicate with household appliances connected to the Internet are currently being brought to us by voice assistants. Now all that it takes to turn on the TV or switch between channels is a single voice command. A group of secondary-school students from Poland have decided to try and merge the 'smart home' concept with voice controllability. 'DAREK', the project they're working on, is addressed to disabled users to help them move around the house. Using voice control, not only will they be able to open the door or roll the blinds down but even stock up the fridge.