News
Poland has a chance of becoming Europe's transport hub. The chance lies in cooperation with China's largest private logistics operator
Says:
Artur Jadeszko, the President of ATC Cargo

Jacky Lim, the CEO of Worldwide Logistics Group
Trade between the EU and China is at a level of more than EUR 1 billion a day. Poland's contribution to this might become even greater as its trade with China continues to grow, with plans on the table to build a logistics hub in our country. Worldwide Logistics Group, a private logistics operator from China, has noticed this potential, and decided to partner up with ATC Cargo, a Gdynia-based company, to start its expansion into Europe. This cooperation is expected to create a major European player in logistics. This is a big chance for Poland, especially in the context of the New Silk Road project.
"Worldwide Logistics Group (WWL) is China's largest private logistics operator and one of the world's 20 largest operators. In February it bought into ATC Cargo. But this is not a simple capital investment, since we're dealing with an industry investor and underlying the deal are shared plans for WWL's development. We'll be responsible for the group's development in other European countries. It is in Poland that the decision-making and process-development will primarily take place. The European market will remain our main focus within the group," said Artur Jadeszko, the President of ATC Cargo, in an interview with Newseria Biznes news agency.
ATC Cargo, Poland's largest logistics operator, has been a long-standing partner of WWL. The partnership of both companies will now gain momentum. In February, the Chinese company purchased 7.54 percent of ATC Cargo's stock from TFI PZU. This cooperation is expected to create a strong player on the European market, with an aspiration to move into the world top 10.
"We have partnered up with ATC Cargo to provide our clients with comprehensive logistics and transport services. These services will go beyond the Polish-Chinese route, expanding internationally," noted Jacky Lim, the CEO of Worldwide Logistics Group.
The venture comes as the initiative has been put forward to restore the historic Silk Road as a rail and road network. But the Group decided to base its European operations in Poland not only due to the country's geopolitical location.
"Poland will become one of our core operational bases in Europe. We're planning to provide our services across Europe and beyond from here. European infrastructure, especially the port infrastructure, is well-developed, enabling us to substantially cut service costs to contribute to a further development of maritime transport,", Jacky Lim explained.
According to Artur Jadeszko, Poland has a chance of becoming not only a transit country, but also a distribution hub and a base from which to expand trade across the EU.
"Poland is one of the key links along the route, since running gears have to be changed at our border. Cargo containers received in the Port of Gdańsk will be shipped to Northern Europe and all the countries neighbouring Poland," Jacky Lim stressed.
For ATC Cargo, the partnership with WWL is a major growth opportunity. The Polish logistics market is highly fragmented and partnership with WWL might help the company increase its market share. Also, it will make it easier for ATC Cargo to venture into foreign markets. As Artur Jadeszko pointed out, so far, Poland has not had a network logistics operator, unlike the ports and logistics hubs in Western Europe. The alliance with WWL Group might be a chance to change this.
The project is an opportunity for the entire economy, especially in the context of the New Silk Road.
"The New Silk Road is, above all, an infrastructural project of vast proportions. We must look at it beyond the existing rail connections from China to Europe. This project will be spread over decades, but it has been carried out only since 2013, so Poland might reap great benefits from it due to its geopolitical location," ATC Cargo's President observed.
China is the most important trade partner of the European Union. According to Eurostat estimates, trade between the Middle Kingdom and the Old Continent is at a level of more than EUR 1 bn a day. Between 2006 and 2016, exports to China almost tripled and imports grew by 76 percent. By comparison, US exports to EU-28 were lower than China's by almost 6 percent.
"Recent years have seen a remarkable increase in exports to China. China is becoming increasingly receptive to Western products. So, there is a vast market to be tapped and it's almost impossible for European producers to find out how vast it is. We, as a logistics company, are trying to feed into this trend," Artur Jadeszko said.
According to China Customs data, trade between Poland and China in 2017 was worth more than USD 21 bn. Imports from China make up the most of it (about USD 18 bn), but exports from Poland have grown to an all-time high of USD 3.3 bn. The growth trend has been up as well, reaching double figures year-by-year.
"The domination of Chinese exports to Western Europe used to be taken for granted, but this trend has been reversing for several years now, with China importing more and more products from Europe. These include mainly food and luxury products. China imports large amounts of food from Poland, including apples and meat," Jacky Lim, the CEO of Worldwide Logistics Group, concluded.
Online
Trade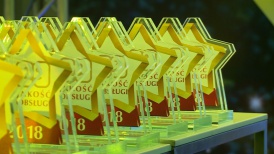 For six years the customer satisfaction index in Poland has grown by over 17 percentage points to nearly 78 percent, and it currently exceeds the customer satisfaction levels recorded in the USA and the United Kingdom. Service quality and its growing significance among businesses have had a tremendous impact on customer satisfaction. For the eleventh time the Customer Service Quality Star titles have been awarded to entrepreneurs recording the best results in this field.