News
Poles are opting for cashless payments. The popularity of instant transfers is increasing rapidly
| | |
| --- | --- |
| Says: | Włodzimierz Kiciński |
| Function: | Deputy President |
| Company: | The Polish Bank Association |
Last year the customers of Polish banks made nearly 1.8 bn transfers to a total of PLN 4.7 bn – states the NetB@nk Report by the Polish Bank Association. Among banking services, it is the popularity of instant transfers which is enjoying the fastest growth, with 80 percent more such transfers made in 2017 than in the year before. At the same time the number of ATM cash withdrawals and of ATMs themselves are decreasing. This is accompanied by Poles' becoming more positive about internet banking.
The number of transfers made by Poles goes hand in hand with an overall increase in economic activity. Both companies and individuals are giving up on cash. The number of transfers in 2017 amounted to 1.8 bn and their value was PLN 4.7 bn. The average transfer value was PLN 2,647, which is a PLN 70 increase when compared to 2016.
"We can see that new products are being introduced to the Polish market and quickly becoming popular with our customers," Włodzimierz Kiciński, Deputy President of the Polish Bank Association, told Newseria Biznes.
The popularity of instant transfers is increasing. As many as 5 m such orders were recorded in 2017, which is 2.2 m more than the year before. Also, the Euro Elixir system, which makes it possible to make clear and inexpensive interbank transfers in euros within the Single Euro Payments Area (SEPA), is gaining popularity. The advantages of this service are its speed and low costs: the transfer usually reaches its recipient within one working day and costs about PLN 5.
"The role of non-cash transactions is increasing, which is appreciated primarily by new, younger bank customers," Włodzimierz Kiciński said.
This also finds confirmation in statistics on ATM withdrawals. In 2017 their number decreased by 30 m when compared to the data for 2016; however, the amount withdrawn from ATMs increased by PLN 15 bn.
"If there were two hundred thirteen ATMs fewer in 2017, this means that following the closure of bank branches, people are coming to like non-cash transactions, which are safe and cheaper," Włodzimierz Kiciński added.
In statistical terms, there are six hundred ATMs per one million of residents. The EU average is nearly three hundred such machines more. This means that cash transactions still hold sway.
"Cash transactions in Poland amount to approximately PLN 190 bn, which is still a tremendous amount when compared with the GDP in Poland, which is about PLN 1.7 bn. If we take this into account, we are still dealing with the persisting high level of cash transactions in the Polish economy," Mr Kiciński explained.
Poles are becoming more eager to use internet banking. In 2017, more than 2.3 m new agreements on online banking were signed. Also, the number of active users, who log in at least once a month, increased – in December 2017 there were 15.89 m of them.
"The increase in active online banking customers by over 0.5 million was a good result for 2017. The Polish active internet customer makes six payments a month and an entrepreneur makes eighteen. It is an important element in the new era of digital economy in Poland," Włodzimierz Kiciński highlighted.
The number of business customers using internet banking is stable. At the end of 2017, more than 2.3 m entrepreneurs from the SME sector had access to accounts facilitating internet banking, and slightly less than 1.5 m actively used their accounts. The average value of monthly settlements of such customers was PLN 73,137.
Online
Trade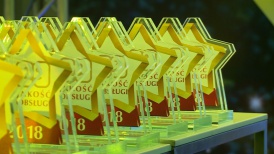 For six years the customer satisfaction index in Poland has grown by over 17 percentage points to nearly 78 percent, and it currently exceeds the customer satisfaction levels recorded in the USA and the United Kingdom. Service quality and its growing significance among businesses have had a tremendous impact on customer satisfaction. For the eleventh time the Customer Service Quality Star titles have been awarded to entrepreneurs recording the best results in this field.