News
Poles still use illegal software and watch pirated content. Companies are looking for now and attractive models of paying for content
| | |
| --- | --- |
| Says: | Bartłomiej Witucki |
| Function: | przedstawiciel BSA w Polsce |
Piracy is on the decline, but in Poland still nearly half of all the software in use is illegal. Private users use pirated software, as well as music and films from illegal sources, even more frequently, being oblivious of the associated risks. Combating piracy has many forms, which include tightening up the anti-piracy regulations. The examples of imposing greater restrictions show that piracy is growing even more quickly.
"The scale of use of illegal software is bigger among private users. This poses greater threats, including identity theft, electronic banking data capture and many other risks," argued Bartłomiej Witucki, a representative of Business Software Alliance in Poland, in an interview with the Newseria Innowacje agency.
Currently, downloading pirated content for your own use is not considered a crime in Poland unless you simultaneously make it available for other users (e.g. in the p2p model). Downloading illegal software and multimedia from unsafe sources poses a threat of cybercriminals' hiding malicious software in the code, through which they can access the victim's computer, and hence very sensitive data. While the scale of illegal software use is slightly decreasing worldwide, a reverse trend can still be observed in Poland. A report drawn up by The Software Alliance indicates that last year the percentage of illegal software use decreased, in global terms, by 2 percent to 37 percent. In Poland, it is markedly higher and amounts to 46 percent.
According to a report prepared by the Netherlands-based Ecorys, as ordered by the European Commission, as many as 51 percent of adults, and 72 percent of under-age Internet users, resort to illegal content. The report covered citizens of six European countries (France, Spain, Germany, Poland, Sweden and the United Kingdom), and the four most-often pirated types of content: films, music, games and books. During the survey, it was estimated that, due to internet piracy, the sales of films has decreased by 5 percent, and the respondents agreed that they would buy films and music from legal sources if their prices were 80 percent lower.
"The problem of illegal software use most often results from the desire to save money, which is in many cases associated with demanding attitudes, and seeing access to technological novelties as the constitutionally guaranteed access to culture. This interpretation appears too broad. It appears that awareness-raising activities should be undertaken to illustrate the significance of intellectual property in the contemporary world and the negative effects of the lack of its protection," stated the expert.
Introducing tighter anti-piracy regulations may not solve the problem of illegal software use. A report prepared jointly by the ALPA anti-piracy group, the Mediametrie and the National Film Board indicates that, following the tightening up of the anti-piracy law by France, in 2017 the percentage of illegally streamed content increased by 15 percent and smartphone piracy by as much as 50 percent.
Popularising affordable streaming services can be a much more effective solution to the piracy problem. Nowadays, for several dozen zlotys you can get unlimited access to the rich library of films on Netflix, music on Spotify, games on PS Plus or Xbox Live Gold or Storytell audio books. Otherwise, piracy can have serious consequences for both the State and individual people.
Trade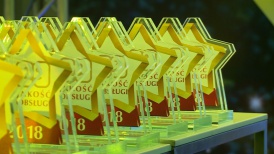 For six years the customer satisfaction index in Poland has grown by over 17 percentage points to nearly 78 percent, and it currently exceeds the customer satisfaction levels recorded in the USA and the United Kingdom. Service quality and its growing significance among businesses have had a tremendous impact on customer satisfaction. For the eleventh time the Customer Service Quality Star titles have been awarded to entrepreneurs recording the best results in this field.