News
Polish companies worth more than 1 billion dollars can be established in industry and biotechnology So far it is the IT and fintech that dominate.
| | |
| --- | --- |
| Says: | Krzysztof Domarecki |
| Function: | założyciel |
| Company: | Fidiasz |
"In Poland there is a need for providing financing not only to small start-ups but also to larger projects, which require the involvement of greater sums of money," said Krzysztof Domarecki, Founder of the Fidiasz investment fund. According to one of the richest Poles and the man behind the success of the Selena group, investors should apply more stringent criteria to the projects they support. One should search for the first Polish unicorn among fintech or e-commerce companies; however, in the longer term, it can also be found in industry or biotechnology.
"When it comes to the dream Polish unicorn, in my opinion, there are at least a few prospects on the market. You should remember, however, that even in the USA, where companies become unicorns, on average, within around 8 years following their establishment, in Europe this usually takes more time. Companies which become worth one billion dollars in a short time are a rare sight," Krzysztof Domarecki, founder of the Fidiasz investment fund, told Newseria Biznes. "Where should we look for them? One of the first industries to have unicorns is the broadly understood IT sector, as well as e-commerce and fintech companies. This is because scaling is the easiest there; however, in the longer term, we can expect unicorns to appear also in industry and biotechnology."
According to a report by KPMG International, in Q1 2018 venture capital funds invested 49.3 bn dollars in start-ups worldwide (over 70 percent more than in the previous quarter). Investors are primarily interested in digital innovation – nearly half (43 percent) of all transaction concern investments in enterprises which develop cutting-edge specialised software. Investors from Europe are interested mainly in fintech companies and AI-based solutions. Unfortunately, as noted by KPMG experts, the venture capital market in Poland is still in its initial stages of development.
"Most funds involved in Polish start-ups are associated with EU grants. On the one hand, this is very good news, as EU funds, including those managed by the Polish Development Fund and the National Centre for Research and Development, support entrepreneurship and innovativeness. On the other hand, there are few independent funds, such as Fidiasz, which do not use European resources. This means that we can invest in much larger teams and more complex projects. We can support ambitious start-ups in several rounds of financing, eventually reaching to projects which require amounts ranging from PLN 10 to 40 m, which are not available to most Polish VC funds," Krzysztof Domarecki said.
As he highlighted, VC funds are now mainly used to finance small start-ups, which require PLN 2-4 m of investment. In Poland, we need larger endeavours to be financed, which also requires involving greater capital.
"The largest Polish fintech start-up, FinAi, has obtained PLN 12 m in the seed round, and it has employed 50 people, even before the market launch. Their solutions can be extrapolated onto most European markets. For this reason, in my opinion, big and ambitious projects have a chance to attract more private funds. We, at Fidiasz, locate the biggest, most ambitious projects characterised by a chance of long-term development and scaling," Krzysztof Domarecki explained.
FinAi is the first company in which Fidiasz has invested (PLN 4.6 m). This start-up, operating in the fintech industry, has created a platform which makes the process of raising a bank loan faster and quicker. Ultimately, the fund would like to create and invest in a group of 5-6 fintech companies, which will complement one another when it comes to the developed solutions, and which will have great potential for conquering the European market.
Online
Trade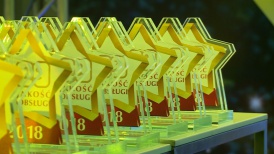 For six years the customer satisfaction index in Poland has grown by over 17 percentage points to nearly 78 percent, and it currently exceeds the customer satisfaction levels recorded in the USA and the United Kingdom. Service quality and its growing significance among businesses have had a tremendous impact on customer satisfaction. For the eleventh time the Customer Service Quality Star titles have been awarded to entrepreneurs recording the best results in this field.