News
Polish employers look forward to the Immigration Act. It is expected to make it easier for them to hire foreign nationals from the East and Arab countries
Says:
Marek Goliszewski, President of Business Centre Club
Stanisław Szwed, Secretary of State, Ministry of Family, Labour and Social Policy
Since 2018, Poland has a new Act on the promotion of employment and labour market institutions. It is expected to facilitate the employment of foreigners from outside the EU and EEA, as well as to help control people arriving to Poland. Employers propose the introduction of the Immigration Act to recruit workforce not only from Ukraine, but also from Arab countries. Without it, the demand for new personnel might be difficult to satisfy. Some companies have already had to give up contracts as they are not able to complete them because of labour shortages.
"Since 1 January we have had a new Act in force on the employment of foreign nationals from third countries, and a new framework for seasonal work permits under the Seasonal Workers Directive. In addition, we still have simpler solutions, known as the declaration-based system, for the nationals of six countries, namely Ukraine, Russia, Georgia, Armenia, Moldova, and Belarus," Stanisław Szwed, Secretary of State at the Ministry of Family, Labour and Social Policy, explains in an interview for Newseria Biznes. "On the one hand, these changes are to facilitate employment and, on the other, they are to make the system tighter to let us make sure that the people who enter our country do not constitute a threat."
In addition to the new permit and declaration forms required for the employment of foreign nationals, there have been changes related to seasonal workers. Now they cannot be employed in agriculture or construction based on a declaration, but instead require a permit from a district employment office, which is slightly different than the one for non-seasonal work. Such permits will be issued for work for nine months during any consecutive 12-month period. Such work will have to be subject to the same minimum wage requirements as for Polish citizens on similar positions, and will require a certificate from the district governor confirming that there are no unemployed Polish citizens with appropriate qualifications available on the local labour market. Declarations can still be used to hire the nationals of the six countries mentioned above for up to six months during the next year.
"We especially need unqualified workforce for such work. During the previous year, using the short-term or declaration-based procedure, employers reported demand for more than 1.8 million employees, while 1.1 million people entered our country. In addition, there are also matters connected with job permits and residence permits, which are issued by provincial offices. There were more than 250,000 such permits during the previous year," the Deputy Minister emphasises. "We have estimated that there are about 1.5 million nationals from third countries on our labour market."
In 2017, we issued 235,600 job permits for foreign nationals, while 1.8 million arrived on the basis of declarations. Both groups were dominated by Ukrainians, 192,500 and 1.7 million respectively. Of all the people who were granted job permits, the largest number, more than 72,000, were industrial workers and operatives, 66,600 were unskilled workers, and more than 50,700 were machine operators and assembly workers. Nearly a million people were hired for unskilled work on the basis of registered declarations.
"Today, there is a shortage of labour. This results from many developments on the Polish and European markets," said Marek Goliszewski, President of Business Centre Club. "In many regions of our country, various companies have reported that they have to give up new contracts as they are unable to complete them because of labour shortages. We need to create more favourable conditions for immigrants, especially the qualified ones, to encourage them to stay longer and take up jobs."
Read also
Trade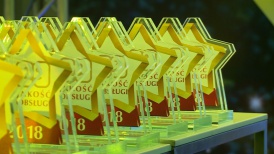 For six years the customer satisfaction index in Poland has grown by over 17 percentage points to nearly 78 percent, and it currently exceeds the customer satisfaction levels recorded in the USA and the United Kingdom. Service quality and its growing significance among businesses have had a tremendous impact on customer satisfaction. For the eleventh time the Customer Service Quality Star titles have been awarded to entrepreneurs recording the best results in this field.