News
Polish personal hygiene products sector is growing by around 4% a year. Manufacturers are going green
| | |
| --- | --- |
| Says: | Rafał Szczepkowski |
| Function: | CEO |
| Company: | Harper Hygienics |
Personal hygiene products' market has been steadily growing by some 3-4% per annum. Faster growth is experienced by its relatively new segment, namely home care products. In both cases the dominant trends to govern this market over the next years are innovation and environmental-friendliness. You might think that innovation in the production of cotton pads or swabs is limited. Quite the opposite, you can be very innovative in the production of even such rudimentary personal care products, says Rafał Szczepkowski, CEO at Harper Hygienics.
"The Polish personal care products are worth, depending on the category, from some PLN 50-60 m for cotton swabs to PLN 150 m for regular, dry pads. It is a relatively stable market, with an annual growth rate of some 3-4%. In addition, there are also various specialist make-up removal and baby care products. Other categories, too, show considerable potential, but their growth rates are not significant," said Rafał Szczepkowski, CEO at Harper Hygienics, in an interview for Newseria Biznes.
Compared to the rest of Europe, our domestic market is better developed in terms of personal care product categories and availability.
"During my recent visits to a few countries in Central Europe, I was surprised to see only two brands of cotton swabs on supermarket shelves, while in Poland there are at least eight. Our market is very well developed and we like to introduce various innovations, also in such simple products as swabs," says Rafał Szczepkowski.
In traditional product categories, such as cotton pads and swabs, Harper Hygienics with its brand Cleanic is a leader with some 25% in the market. The CEO believes this segment shows potential for growth because of the associated rapid development of the cosmetics industry.
"Polish cosmetics market offers exciting prospects. There is a considerable potential for the development of existing products but also for introducing some new, previously unexplored product categories. With our technical resources and position as a leader in innovative cotton products, we're able to respond to global trends and offer innovative, more environmentally-friendly personal care products and cosmetics," says Rafał Szczepkowski.
One of the changes that can be observed on the market is in cotton swabs. Previously these were made mainly of polypropylene and pure cotton. But the European Union now categorises polypropylene as waste, so producers started to introduce environmentally-friendly paper swabs, which in countries such as France are now the only ones available in stores.
"We are absolutely sure that 'green' will be the industry buzzword for the next few years. And we're ready for this. We already supply such swabs and have long-term contracts for their production. Importantly, we do not stop there. With our innovative Arvel process line, we continue to work on our product portfolio to offer excellent and environmentally-friendly products," says Rafał Szczepkowski.
In 2017, Harper Hygienics' revenue grew by nearly PLN 40 m YoY. Poland is a key market for Harper Hygienics, as it accounts for more than fifty percent of its sales.
Online
Trade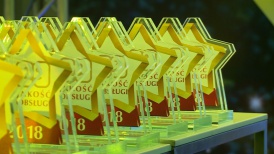 For six years the customer satisfaction index in Poland has grown by over 17 percentage points to nearly 78 percent, and it currently exceeds the customer satisfaction levels recorded in the USA and the United Kingdom. Service quality and its growing significance among businesses have had a tremendous impact on customer satisfaction. For the eleventh time the Customer Service Quality Star titles have been awarded to entrepreneurs recording the best results in this field.