News
Polish secondary-school students working on a smart-home app for people with disabilities
Says:
Bartosz Dudek, coordinator of the DAREK project
Adam Wdzięczny, team member
Bartosz Paliński, team member
More and more devices are becoming part of the 'smart home' concept. No longer limited to TVs or tablets, they now also include laundry machines, vacuum cleaners and even refrigerators. New ways to communicate with household appliances connected to the Internet are currently being brought to us by voice assistants. Now all that it takes to turn on the TV or switch between channels is a single voice command. A group of secondary-school students from Poland have decided to try and merge the 'smart home' concept with voice controllability. 'DAREK', the project they're working on, is addressed to disabled users to help them move around the house. Using voice control, not only will they be able to open the door or roll the blinds down but even stock up the fridge.
"With smart homes being such a hot topic at the moment, everyone would like to live in one. We don't want to copycat what has already been done in this field. Besides, we wouldn't be able to compete with systems from top-market brands anyway. But we want to fill in a niche which has become apparent in these systems, namely voice controllability. 'Asystent DAREK' (DAREK Assistant), an app designed to 'mimic' a smart home, has been developed with disabled users in mind. Its embedded system can, e.g. open the door for you or roll the blinds up or down. Such systems are yet to find their way into smart homes," Bartosz Dudek, coordinator of the DAREK project, told Newseria Innowacje information agency.
The potential behind artificial intelligence has not escaped the attention of both large corporations and independent innovators, as they see its ability to make many routine, daily tasks easier, faster and more automated. Along with the progress of natural-language processing systems, computers have started to 'listen' to their human operators. The latest AI algorithms are no longer limited to responding to pre-programmed commands and are now starting to utilise machine learning solutions in order to better understand our expectations.
One very interesting example of such a system is Google Assistant Kids, a virtual encyclopaedia-assistant developed by the students of the School of Visual Arts. This software, analysing the style of oral utterances, determines the speaker's age and then goes on to provide an answer tailored to his or her cognitive abilities. Accordingly, the system will be more elaborate when talking to an adult, while a younger speaker will receive more graspable answers.
The DAREK project also aims to remove the communication barriers still lingering between humans and artificial intelligence. However, it was mainly the disabled users that the students from the Kazimierz Wielki Secondary School in Koło had in mind when working on this project.
"Just one voice command sent to a phone with the app activated, and the assistant will respond right away, telling you the weather outside or opening the door. This should prove useful especially for those who find it difficult to move around their home. In the future, this technology will surely aim to lift all kinds of barriers for the disabled," says Bartosz Dudek.
DAREK has been designed primarily to prevent disabled communities from becoming digitally excluded. As compared to standard smart-home systems, this Android app should help the users communicate better and have greater control over their surroundings.
As declared by Bartosz Paliński, a team member: "Our assistant module is halfway finished, with most voice-controlled functionalities already there, but we want to add some more, e.g. a calendar for medical appointments, a fridge stock-up feature, and computer accessibility for armless and legless users."
A similar solution is being worked on by the students of the Warsaw University of Technology, as part of the Farma Dobrej Woli project involving the construction of a smart-home estate for people with disabilities. The project, utilising the latest smart systems, is to facilitate the use of everyday items and allow an all-day round care of the estate's residents.
The majority of commercial smart-home systems are based on voice recognition and analysis solutions from Google, Apple or Amazon, which, however, are still unable to communicate in Polish. A Polish-speaking assistant is to be launched by Google by the end of this year. The introduction of proprietary solutions adapted to Polish users' needs may prompt a faster deployment of commercial ones.
According to a Zion Market Research report, in 2018, the smart-home market will reach the value of USD 31 bn and grow up to USD 53.5 bn by 2022.
Read also
Trade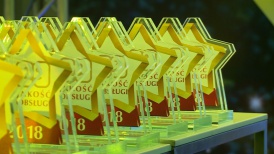 For six years the customer satisfaction index in Poland has grown by over 17 percentage points to nearly 78 percent, and it currently exceeds the customer satisfaction levels recorded in the USA and the United Kingdom. Service quality and its growing significance among businesses have had a tremendous impact on customer satisfaction. For the eleventh time the Customer Service Quality Star titles have been awarded to entrepreneurs recording the best results in this field.