News
Polish students combat social exclusion of the disabled. Increasingly often, innovative projects are launched at schools
| | |
| --- | --- |
| Says: | Małgorzata Jankowska |
| Company: | Nowa Era |
Inventiveness is not the exclusive domain of start-ups or large corporations - more and more frequently, innovative projects are devised even by secondary school students. They construct equipment and design applications not only for fun – often, they are inspired by higher objectives, such as removing barriers. It is upper-secondary school students who invented such objects as a smart GPS vest which recognises objects in the way of a visually impaired person, a Braille reader with a speech synthesizer, or an inductive loop for people with hearing impairment. An increasing number of brilliant inventions in the service of mankind are introduced by the youngest generations.
"Playing is no longer the only purpose for which young people use state-of-the-art technologies, and because they have the knowledge and possibilities, they have started asking themselves much more profound questions – "What can we do to make modern technology serve others and change the world for the better? This attitude results from the need to be needed and the desire to transform the world," says Małgorzata Jankowska from the Nowa Era publishing house, "Projekt z klasą" Project Manager.
Students with disabilities have to overcome architectural, social and technological barriers almost everywhere they go, which isolate them from their peers. Apparently, their classmates can be of assistance. More and more students around the world carry out projects aimed at solving the problems of the handicapped. With sufficient assistance from teachers such projects can become widely used by the society at large.
"Young people know how to counteract the social exclusion of people with disabilities, they enjoy doing it – and they have an opportunity to do so. It turns out that the school environment can offer possibilities of coming up with solutions which will help others, even on a greater scale," says Małgorzata Jankowska.
The greatest wave of innovations to be introduced by students is still ahead. Owing to adding computer programming to school curricula, younger and younger generations are having a go at writing apps and software. Alexander Knoll, a twelve-year-old boy, developed the Ability App - software which helps people with disabilities navigate public spaces. It tells them where to find lifts and platforms for wheelchairs, or restaurants with Braille menus.
Alexander's project aroused the interest of Ellen DeGeneres, a US actress hosting "The Ellen DeGeneres Show", who gave him a cheque for 25 thousand US dollars to cover the costs of finishing the app and making it accessible to the general public. Polish students are also given grants and financial assistance to help them implement their projects.
"We believe that thanks to Nowa Era's grants students will have a chance to proceed from planning to implementation, as the awarded funds are the first step towards buying the required components. We also assume that our certification will pave the way for students to local sponsors, who could provide financial assistance at later stages," Jankowska says.
In the seventh edition of the "Projekt z klasą" competition, 55 awards have been granted, totalling PLN 60 thousand. This edition was the first to admit not only secondary- but also elementary school students.
Trade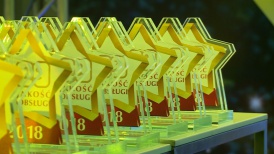 For six years the customer satisfaction index in Poland has grown by over 17 percentage points to nearly 78 percent, and it currently exceeds the customer satisfaction levels recorded in the USA and the United Kingdom. Service quality and its growing significance among businesses have had a tremendous impact on customer satisfaction. For the eleventh time the Customer Service Quality Star titles have been awarded to entrepreneurs recording the best results in this field.