News
President of Orange Polska: 5G is going to revolutionise mobile market. Field tests of this technology to be launched by Orange next year
| | |
| --- | --- |
| Says: | Jean-François Fallacher |
| Function: | President of Orange Polska |
Data transmission using 5G technology is to be ten times faster than in 4G, and in the future the technology is expected to power efficient communication between tens of billions of devices. First tests of this next-gen mobile network will be carried out by Orange Polska as early as in 2019. This is also when the first 4G and 5G smartphones will land in shops. Technology roll-out has been planned for 2020–2021. The development of 5G networks will be based on such milestones as securing appropriate wavebands and building new infrastructure.
"5G is set to revolutionise the mobile sector of the future. We are all using more and more data via a growing number of devices, but smartphones remain our primary communication tool and we rely on them more and more in our lives. Our Customers will benefit from the launch of 5G. This next generation mobile technology will allow them to watch films without any interruptions, ensuring better TV image quality, more efficient web browsing, and faster uploading of photos to social media," Jean-François Fallacher, President of Orange Polska stressed in his interview for Newseria Biznes.
Compared to 4G, 5G provides unprecedented functionality, offering faster communication links and greater network capacity. The currently used 4G allows access speeds of up to 300 Mb/s, while 5G will provide much faster data transmission, reaching gigabits per second. Data transmission delay time will be reduced from the current 50 milliseconds to just 1 millisecond, which, in turn, will have a great impact on the development of the Internet of things and augmented reality.
"The Orange Group looks forward to 5G technology. In the next decade it will become the everyday reality of our Customers. Data transmission will be up to ten times faster, providing better network response times. 5G will become a complementary radio equivalent of fibre-optic networks, laying the groundwork for the deployment of many new applications from all sectors of economy," said Arnaud Vamparys, Senior Vice President for Radio Networks inside Orange Labs Networks and well as the 5G Group Champion.
5G will also help implement on a large scale such solutions as smart city, bringing benefits for telemedicine and online diagnostics. Systems which monitor such critical parameters as the levels of glucose in diabetics or the health of cancer patients, will respond to emergency situations by notifying the patient and, if necessary, emergency services.
The development of 5G is driven by the Internet of things and a growing number of devices connected to the network.
"Another very important application of 5G is known as the Internet of things, or IoT for short. Cars, fridges, glasses, watches – all these will be connected to one another, sharing and exchanging data," added Jean-François Fallacher.
5G has been developed and implemented for a few years now by the leading global technology powerhouses, including Orange, whose fibre-optic network might also be used for the construction of the next generation mobile network. The Company announced that first tests of 5G technology will begin in 2019.
"First, we will carry out some tests and then proceed to pilot projects in selected areas. In 2020-2021 we plan to launch 5G in pioneer areas. From then on the network will be gradually rolled out. But in order to achieve operational capacity, we will need to secure the necessary 5G wavebands with regulatory authorities," said Jean-François Fallacher.
The introduction of the next generation network in Poland will rely on the availability of suitable wavebands with frequencies ranging from 3.6 to 3.8 GHz. These are the only radio frequencies that can be used for the construction of the network at short notice. Now operators have access to wavebands of several dozen Mhz, while 5G requires at least 100 MHz bands to reach its full potential.
The Ministry of Digital Affairs, which published its "5G Strategy for Poland" in early 2018, wants the 5G network to be allocated the 700MHz waveband, the 3.4-3.8 GHz bandwidth and a band above 26 GHz. 5G is expected to be operational in Poland by 2020.
Experts from Orange Polska say that this will be based on global 5G standards. The first version of such standards was created by 3rd Generation Partnership Project (3GPP), an organisation which brings together companies interested in the development of mobile phone systems. First 5G-compatible devices can be available as early as in 2019.
"We expect first 4G- and 5G-compatible smartphones to be available on the European market in mid-2019, and to be sold on a wide scale in 2020. Orange Polska is, therefore, actively involved in preparing the ground for the roll-out of this next generation network and the devices that rely on it. It is crucial that each country take full advantage of the opportunities afforded by 5G, and that each operator can provide access to 5G in addition to the existing 4G, while making it possible for the same equipment to be used for the purposes of new 5G wavebands," said Arnaud Vamparys.
Online
Trade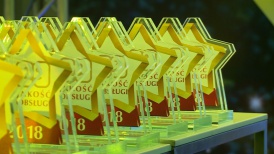 For six years the customer satisfaction index in Poland has grown by over 17 percentage points to nearly 78 percent, and it currently exceeds the customer satisfaction levels recorded in the USA and the United Kingdom. Service quality and its growing significance among businesses have had a tremendous impact on customer satisfaction. For the eleventh time the Customer Service Quality Star titles have been awarded to entrepreneurs recording the best results in this field.