News
SEAT with record-breaking sales results in Poland. The automotive brand will be launching a product offensive.
| | |
| --- | --- |
| Says: | Jakub Góralczyk |
| Company: | SEAT |
In 2017 customers of the Spanish automotive brand registered 10,500 vehicles in Poland, which had been the best result for a dozen or so years. In the initial months of 2018, the sales dynamic has been at 45% which is a promising sign when it comes to the sales in subsequent quarters. Moreover, SEAT has announced an array of new products, including an electric cars market offensive scheduled for 2020. Its brand new product, i.e. a tourist electric race car, is to be presented during this year's Motor Show in Poznań.
"2017 was the year when SEAT Poland, being already part of Volkswagen, had recorded the best results since 2001. This marked a great success for us, following the 2011-2012 crises, both in Poland and globally. Last year we recorded a growth especially in sales to individual customers," said Jakub Góralczyk, SEAT, in an interview with the Newseria Biznes news agency.
Poland has paved its way to the top 10 SEAT markets. In 2017 Poles registered nearly 10,500 SEAT cars, i.e. almost 20% more than a year before. The growth was particularly high in sales to individual customers (exceeding 41%), which was the second best result in terms of the growth dynamics of sales to individual customers. The initial 2018 data seem no less promising.
"The sales results recorded for the first two months of 2018 look hugely promising. With over 2,000 new cars being registered, we recorded a growth of 45% as compared to the corresponding period of the previous year," Jakub Góralczyk stressed.
Upward trends have also been observed on other key markets. After two months of 2018, Spain remained the sales leader (+18.1%, with 17,100 vehicles), followed by Germany (+15%, with 13,700 vehicles).
"SEAT is experiencing a very strong growth in geographic terms. To date the brand has mainly marked its European presence, but in the coming years we are planning to enter Africa, and Latin and South Americas. We also intend to slowly penetrate the Chinese and other Asian markets," Jakub Góralczyk said.
According to the SEAT expert, a diversified portfolio has contributed to this significant rise in the brand's popularity. The new-generation Ibiza has caught on really well, and so has the Ateca model, i.e. the first SUV, with a sports version appearing on Polish roads later this year. Seven-person Tarraco will soon enter the market, being SEAT's third SUV, preceded by Ateca and Arona. Cars with Cupra logo will also be available for the first time this year.
"We have decided that Cupra merits a separate approach and more space, considering that SEAT has done so well, both in Poland and in the world," Góralczyk clarified. "Our product offensive will not end with Tarraco. The new-generation Leon will also be released this year, and 2020 will see the biggest electric car offensive."
The company already has such vehicles in its portfolio, including Cupra e-Racer which is a flagship model to be presented during this year's Motor Show in Poznań.
"This designer-looking car displays excellent performance parameters, reaching a speed of 100 kph within 2.3 seconds, and rapidly accelerating to its maximum speed of 270 kph. This is the SEAT-style future of e-mobility," Góralczyk said.
Drivers are more and more willing to choose eco-friendly cars. Based on the KPMG and PZPM [Polish Association of Automotive Industry] data, 18,000 hybrid cars were registered in 2017 (a rise of 69%), along with over 1,000 electric cars (a rise of 87.7%).
SEAT is also promising further investments in new technologies, such as connectivity, i.e. solutions fostering connections between the driver and the surroundings, e.g. operating a smartphone through an on-board screen. The brand takes a step ahead by implementing the Amazon Alexa system which allows replaying messages or using navigation with just a few voice commands. In the long run, the system will support connecting with smart homes.
"All the technological solutions introduced in the automotive industry are aimed at improving safety. This is also true about connectivity. In Poland the trend of using mobile phones while driving is really strong. So, when a phone has a contact-free connection with the vehicle, the driver can concentrate better on the road," Jakub Góralczyk stressed.
Online
Trade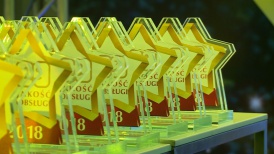 For six years the customer satisfaction index in Poland has grown by over 17 percentage points to nearly 78 percent, and it currently exceeds the customer satisfaction levels recorded in the USA and the United Kingdom. Service quality and its growing significance among businesses have had a tremendous impact on customer satisfaction. For the eleventh time the Customer Service Quality Star titles have been awarded to entrepreneurs recording the best results in this field.