News
The British investment market leader opens its first technological centre outside Britain. They picked Warsaw
Says:
Christopher Hill, Chief Executive Officer, Hargreaves Lansdown

Michał Głowiński, General Manager, HL Tech in Poland
A well-developed business culture, rapid technological sector development and highly-educated IT personnel – these are the factors that made Warsaw the desired choice for locating the new technological centre for Hargreaves Lansdown. The British investment market leader opens its first technological centre outside Britain. It will host the development of new software for modern customer service and will facilitate financial operations for investors all over the world.
"Technology is key for our strategy. We support the savings and investments of millions of people in the UK. A major part of our interactions with clients is online, and more and more of them happen on mobile devices. We want to continuously develop these technologies and for that we need specialists. We picked Warsaw and we employ 50 people here, as in our opinion Warsaw has the experience that could help us in further growth," Chris Hill, CEO of Hargreaves Lansdown told the Newseria Biznes agency.
Hargreaves Lansdown is one of UK's largest companies managing investment and retirement funds for employers and private investors. They manage about PLN 79 bn worth of assets. The British investment market leader has recently opened its technological centre in Warsaw – the first one outside the UK. The company rented 3,200 sq. m on the 34th floor of Warsaw Spire, one of the Polish capital city's most prestigious office buildings. The new technological centre will cooperate with and complement the current team working in Bristol.
"We were looking at a number of locations worldwide. Warsaw won because it has the best specialists. We'll be developing software for our internal needs to help us gain a competitive edge. All solutions are becoming more and more mobile – that is what clients expect and our role is to provide such solutions on an ongoing basis," stressed Michał Głowiński, Managing Director of HL Tech in Poland.
Another decisive factor, in addition to highly-educated human resources, was Warsaw's well-developed business culture, which includes very good transport infrastructure and a rapidly developing technological sector. The British company has already created 50 jobs in Warsaw and is recruiting a further 20 employees. It is looking for programmers, analysts and software testers with excellent IT skills and a good command of English.
"Our development plans are much bigger. The teams working on mainframe software will soon be joined by people who create dedicated mobile solutions," Michał Głowiński said.
The Managing Director at HL Tech in Poland emphasised that the company had already been investing significant funds in technological development and innovation for many years. The establishment of a new technological centre and hiring specialists is the next stage in its development. The technological centre located in Warsaw will design and develop software to enhance modern customer service in the UK and to facilitate financial operations for investors.
"Our task is to build good software from scratch. As the branch in Poland we're not asked to create a part of existing software, but to design a whole new solution. That is why our specialists and analysts first talk to their colleagues in Bristol to decide what we need to do and how, and only then do we launch actual development here in Warsaw to create the software," Michał Głowiński explained.
"Technology is what determines service quality. Hargreaves Lansdown is renowned for its high quality services provided to clients. Our task is to conduct the investment process: open an account, transfer money to it, look for investment targets, conduct analyses and provide the necessary tools. This wouldn't be possible without technology. We facilitate investments and we do it better than our competition, because we are smart in using technology," Christopher Hill added.
Online
Trade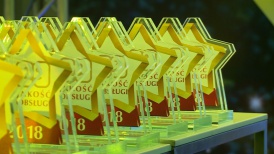 For six years the customer satisfaction index in Poland has grown by over 17 percentage points to nearly 78 percent, and it currently exceeds the customer satisfaction levels recorded in the USA and the United Kingdom. Service quality and its growing significance among businesses have had a tremendous impact on customer satisfaction. For the eleventh time the Customer Service Quality Star titles have been awarded to entrepreneurs recording the best results in this field.