News
The health effect of olive oil has been proven by Polish scientists. The oleaceine contained on olive oil can prevent stroke and heart attacks.
| | |
| --- | --- |
| Says: | prof. Marek Naruszewicz |
| Function: | nutrition expert |
| Company: | Medical University of Warsaw |
Scientists from the Medical University of Warsaw have discovered that oleaceine, found in extra-virgin olive oil, has a unique ability to prevent the atherosclerotic plaque in the neck artery from breaking and hence reduce the high risk of death due to a stroke or heart attack. However, Prof. Marek Naruszewicz, leading the research, stressed that these valuable properties can only be found in bitter, greenish and cloudy extra-virgin oil. The yellow oil, less expensive and milder in taste, has a much lower content of beneficial substances.
Professor Marek Maruszewicz explained that as soon as the atherosclerotic plaque breaks, a vessel-blocking clot develops. Thorough research has shown, however, that oleaceine can effectively inhibit the inflammation which causes the breakdown of the atherosclerotic plaque. The plaque becomes stable and does not break. This is especially important for people with hypertension, whose population in Poland can reach up to 16 m by 2035.
"Our university and my team were the first to detect the presence of an olive oil compound called oleaceine. It displays a strong antiatherosclerotic effect, protecting against strokes and heart attacks. This discovery has earned its authors many awards, most recently from National Geographic as the discovery of the year," Prof. Naruszewicz, a nutrition expert from the Medical University of Warsaw, told Newseria Lifestyle.
Research has shown that the daily consumption of 40 ml of olive oil reduces cardiac mortality by 40 percent and mortality due to other diseases by 30 percent. In order to provide this effect, however, the product has to be top quality.
"In particular, you should buy extra-virgin oil, which is obtained at an appropriate temperature and has healthy components. Our research has clearly shown that this oil contains a number of components which protect against hypertension and atherosclerosis as well as other lifestyle diseases. So, you should make sure to pick the right olive oil by checking if it was produced in Italy. Often, it says on the label that it was produced in the EU. This isn't enough. The oil should originate from Italy," Professor Marek Naruszewicz said.
Researchers point out that the Italians eat only extra-virgin oil, usually made from their own crops. However, they don't use this oil for frying.
"Olive should not be heated to more than 60°C, but consumed raw, as temperature causes the healthy compounds to break down," Professor Marek Naruszewicz said. "Fresh olive oil should have a bitter, slightly prickly taste. These are the main properties that prove that it's healthy.
The yellow oil, less expensive and milder in taste, has a much lower content of beneficial substances. One of the reasons is irrigation used in commercial crops.
Read also
Trade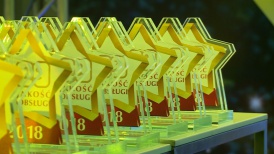 For six years the customer satisfaction index in Poland has grown by over 17 percentage points to nearly 78 percent, and it currently exceeds the customer satisfaction levels recorded in the USA and the United Kingdom. Service quality and its growing significance among businesses have had a tremendous impact on customer satisfaction. For the eleventh time the Customer Service Quality Star titles have been awarded to entrepreneurs recording the best results in this field.