News
The number of luxury cars is growing. Poles now prefer to lease than to own them
| | |
| --- | --- |
| Says: | Paweł Ciołkiewicz |
| Function: | Sales Manager |
| Company: | Bentley Warszawa |
Luxury cars are now a more and more popular sight on Polish roads. By 2022 their number can grow by up to 10 percent a year, Deutsche Bank statistics suggest. In 2017, as many as 176,000 premium cars were registered in Poland. There were much less luxury cars with prices above PLN 215,000 – only 140+. But their number is likely to grow, as is that of affluent Poles, who spend more than half of all their luxury goods expenditure on cars. Clients are now becoming more interested in using than in owning. That is why Poles are more and more often opting for a lease.
The luxury cars market is growing rapidly year by year. Demand for such cars is increasing. This is especially owing to more convenient finance options. Cars are becoming more and more affordable," Paweł Ciołkiewicz, Sales Manager at Bentley Warszawa, told Newseria Biznes.
Polish customers are more interested in using than in owning a car. That's why they are happy to take out a lease. This is particularly true for businesspersons, as – especially with more expensive cars – lease is simply cost-effective.
"We introduced new car finance options, such as lease with high residual value, where customers pay only for use. Customers are now less interested in owning and more interested in using cars. And besides, it sounds much better if you say a car costs 14,000 zloty a month net rather than saying it costs 1.3 m zloty," Paweł Ciołkiewicz said.
Luxury cars prices can run into the millions. Still, such cars are now a more and more frequent sight on Polish roads.
"Our prices start at PLN 900,000, and the average price is PLN 1.5 m. Such cars are generally bought by businesspersons, owners of large and thriving companies, or managers," Ciołkiewicz explained.
The growing interest in luxury cars is also stimulated by the continuously expanded portfolio of such products, Ciołkiewicz added.
"We have such cars as the new Bentley Continental. This is a car that appeared on the market 14 years after the previous model. We also have Bentley Bentayga, until recently one of the fastest SUVs in the world, Ciołkiewicz explains. Bentayga car serve many roles. With a 6-litre W12 engine, it is a sports car as it goes 0 to 100 in 4.1 seconds, an off-road car, because it can handle difficult terrain, and a luxury limousine. And on top of that the car is superbly finished.
Analyses carried out by Deutsche Bank have revealed that until 2022 the number of luxury cars in Poland is going to grow, even by 10 percent a year. Zion Market has estimated that the value of this market is expected to grow to USD 23.2 bn by 2022. In Poland, premium and luxury cars market could be worth PLN 12.3 bn ("Luxury Goods Market" analysis by KPMG). This is the largest sector on the luxury goods market (accounting for nearly 60 percent). Data by KPMG show that in 2017 Poles bought more than 61,000 premium cars. The luxury cars market is much smaller, with only 141 such cars sold in 2016, and 146 sold in three quarters of 2017 (including Maseratis – 88, and Bentleys and Ferraris – 21 each, as the most popular).
Read also
Online
Trade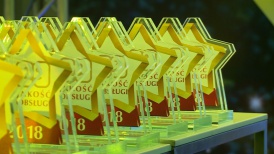 For six years the customer satisfaction index in Poland has grown by over 17 percentage points to nearly 78 percent, and it currently exceeds the customer satisfaction levels recorded in the USA and the United Kingdom. Service quality and its growing significance among businesses have had a tremendous impact on customer satisfaction. For the eleventh time the Customer Service Quality Star titles have been awarded to entrepreneurs recording the best results in this field.