News
The number of workers from behind Polish eastern border is growing rapidly but the demand from employers is much higher
| | |
| --- | --- |
| Says: | Jacek Kotłowski |
| Function: | Vice-Director of the Economic Analysis Department |
| Company: | The National Bank of Poland (NBP) |
According to NBP's evaluations, the number of Ukrainians working in Poland has reached one million, and in the next two years this figure will grow by 200,000-300,000. Also, Georgians and Belarusians are increasingly often crossing our border to seek employment. Despite such a growth rate, it is still not enough to meet the demand for workers. Convincing foreigners to stay in Poland also remains a challenge.
"We are simultaneously observing a very high labour demand on the market and certain limitations of labour supply, which does not change the fact that the number of workers is still increasing. This is a positive development that occupational reserves are being activated, especially among people of the pre-retirement age (45-60), whose occupational activity was relatively low as compared to the EU but in the recent years it has increased by almost 10 percentage points. There are still considerable reserves available," Jacek Kotłowski, Vice-Director of the Economic Analysis Department, told the Newseria Biznes news agency.
Recently, Eastern European countries have become the major source of workers on the Polish market. In 2017 employers submitted almost 1.7 m declarations of the intention to commission work to Ukrainians. As shown in the NBP estimates, more than 1 m people from Ukraine are already working in our country, and in the years to come the number is to increase by 200,000-300,000 per year. However, there are a number of factors that may impact these estimations, e.g. the EU visa policy and the situation in Ukraine.
"These people are very quick to integrate with Polish society and, at the same time, make very good workers," Jacek Kotłowski said. "It would undoubtedly be very beneficial to streamline the process of hiring people from abroad and to make it easier for them to come and find a job in Poland. Such measures are being gradually introduced, but in my opinion, they are still insufficient to meet the demand of companies.
Kotłowski pointed out that recruiting employees from the nearest markets is the easiest solution. In addition to Ukrainians, workers from Moldova, Georgia and Belarus are seeking employment in our country. Employers can also seek workers on more distant markets, but in their case the hiring procedures and the process of integration with the society is longer than for Ukrainians and Belarusians.
The Director of NBP emphasised that it is important to focus on making Poland the target job market for economic immigrants.
"A low language barrier and geographical and cultural proximity are conducive to staying in Poland, so the group of people who want to go further west is relatively small," Jacek Kotłowski emphasised. "Apart from that, it is much easier for them to start working in Poland, while in other EU countries the limitations are much greater; it is important to create various stimuli and incentives for workers to stay for longer instead of seeking only seasonal employment.
This has been confirmed by the Economic Immigration Barometer (1st half of 2018) by Personnel Service. More than half of the surveyed Ukrainians indicated that they chose Poland due to the small distance. 44 percent selected our country because of earnings – in comparison to the minimum pay in Ukraine (an equivalent of approx. PLN 480) our minimum wage (PLN 2000 gross) is very attractive. Further reasons given by every third employee were a low language barrier and the presence of family and acquaintances in Poland.
However, only every tenth worker from Ukraine is considering staying in Poland permanently. A considerable majority is planning to come back to their home country. Only 0.5 percent of workers declare that they owned an apartment or house in Poland, and 3 percent are considering to buy real property.
An important factor which could keep workers from Ukraine in Poland is a stable economic situation of our country.
"The Polish economy is currently in the phase of mature expansion. "This is very beneficial that our growth rate is both fast and progressing without substantial imbalances – inflation is low, the current account balance is favourable, and there are virtually no sectors of the economy with imbalances, which is the greatest advantage," Kotłowski stated.
Online
Trade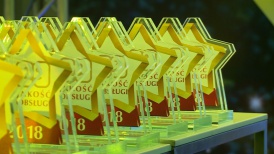 For six years the customer satisfaction index in Poland has grown by over 17 percentage points to nearly 78 percent, and it currently exceeds the customer satisfaction levels recorded in the USA and the United Kingdom. Service quality and its growing significance among businesses have had a tremendous impact on customer satisfaction. For the eleventh time the Customer Service Quality Star titles have been awarded to entrepreneurs recording the best results in this field.