News
The Polish transport sector underfunded. Local businesses spend much less on technology innovations compared to Western Europe
| | |
| --- | --- |
| Says: | Marek Kujawiński |
| Function: | Sales Director |
| Company: | TomTom Telematics Polska |
Polish companies continue to rely on traditional paper binders and Excel sheets to store their data, a study by TomTom Telematics finds. Traditional analogue tools are used by 40% of businesses. Only one in eight companies use telemetric systems to reduce their costs, ensure more efficient vehicle use and improve drivers' safety. Polish companies spend much less on these measures than their counterparts in France and Germany. This problem is particularly pressing in the transport sector, where returns on investments show the quickest.
On average, Polish businesses spend EUR 12,000 a year on innovative technological solutions. This is only 36% of the money French companies spend, and 41% of that invested by the Germans.
"This is such a waste for the business, because fleet management systems could radically improve the efficiency of those companies and boost their competitiveness both domestically and internationally," Marek Kujawiński, Sales Director at TomTom Telematics Polska, told Newseria Bizness.
Barriers to introducing new solutions to Polish companies, as reported by their managers, are high costs (37% of answers), difficulties related to innovation deployment (18%) and shortage of qualified staff (13%).
"Indeed, new technologies can be associated with financial outlays, but the truth is that these costs correspond to about 1% of the monthly expenditure on a single company vehicle, and, most importantly, these costs can be quickly recovered. These expenditures should be considered as investment which pays for itself and helps companies achieve more," Marek Kujawiński emphasised.
Only about 13% of company cars in Polish companies are supported by telematics systems. This is not much compared to the rest of Europe, where such solutions are used by twice as many businesses.
"In the transport industry the situation is slightly better, because the effects of having this technology in place are more easily noticeable, even for businesspersons who are less open to innovations. Return on investment is very fast, and the benefits include not only operational haulage support but exceed far beyond basic functionality," Marek Kujawiński explained.
But the key to the effective implementation of new solutions is to choose appropriate devices and to make sure the system provider offers support during technology deployment and day-to-day operations.
"As many as 46% of Polish managers declared that over the last 5 years they had invested in technology, but they also admit that it was poorly used, mainly because of HR shortage or inappropriate deployment and personnel training," Marek Kujawiński explained.
However, as reported by "Finances, Investments, and Trends (FIT) in the Transport Sector in the first half of 2017", a study by Keralla Research Institute, companies can also be forced to implement telemetrics systems by growing competition within the sector (63%), margin reduction trends (32%), and growing costs of labour (30%). Digital fleet management brings substantial savings in fuel and vehicle maintenance and insurance costs.
"Other benefits offered by systems such as WebFleet are comprehensive communication between office staff and drivers, route sending, and task distribution with reports on current progress, including road traffic, remote supervision of fuelling up and fuel consumption, instant notifications on incidents, and automatic messages to clients to notify them of the real delivery time," emphasised the Sales Director at TomTom Telematics in Poland.
Real-time driving style analysis helps reduce accident rates and, consequently, avoid potentially high stoppage costs. In addition, digitisation supports more efficient HR management, while also improving personnel safety.
"In terms of ensuring compliance with such legal requirements as time reporting, business trip calculations, traffic regulations, and tachograph data recording, telematics systems allow business owners fully focus on their businesses, while helping them avoid any potential fines and problems," Marek Kujawiński added.
Companies who use telemetric solutions also create their image more effectively.
"Modern technology can also help you build positive relationships with clients, e.g., by allowing them to verify transport conditions to see how their goods are being transported, or by providing them with the estimated time of arrival," Marek Kujawiński added.
Trade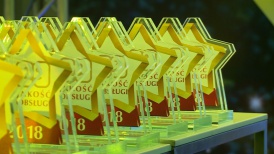 For six years the customer satisfaction index in Poland has grown by over 17 percentage points to nearly 78 percent, and it currently exceeds the customer satisfaction levels recorded in the USA and the United Kingdom. Service quality and its growing significance among businesses have had a tremendous impact on customer satisfaction. For the eleventh time the Customer Service Quality Star titles have been awarded to entrepreneurs recording the best results in this field.