News
The printing industry in Poland is prospering. The problem does not lie in low reading rates but in payment deadlines and the financial condition of publishers
| | |
| --- | --- |
| Says: | Waldemar Lipka |
| Function: | CEO |
| Company: | Kompap |
Nearly 40 percent of Poles read at least one book per year. Although the reading level is low, we buy books increasingly often. The number of published titles is also growing, and since 1991 it has seen an almost threefold increase. For the printing industry this is a favourable situation, especially on the market of hardcover books, which guarantee the highest mark-ups. At the same time, the average circulation of the published titles is decreasing, which is why more and more companies choose digital publishing, which is much less expensive than traditional printing.
"A low reading rate is the problem of professors at Polish language departments, and what matters for us is the amount of books sold. The number of books and the reading rate are separate issues. For instance, libraries buying books now have much more possibilities. We also print books which are not designed for reading, e.g. manuals or similar items, which are released in hundreds of thousands copies," emphasised Waldemar Lipka, President of Kompap, in an interview with the Newseria Biznes news agency.
The number of titles on bookstore shelves is growing. As shown in the publication "Ruch Wydawniczy w Liczbach (Polish publishing in figures), in 2017 there were more than 36.2 thousand titles available. This corresponds to a threefold increase as compared to 1991. The most recent reading survey results in Poland demonstrate that, following substantial drops in 2004-2008, the reading rate in Poland has stabilised at approx. 40 percent. Nearly every tenth Pole reads 7 or more books per year. Importantly enough, the data of the National Library show that in the recent years Poles have been more willing to read the books that they bought than those which they already had at home.
"We all have several dozen books at home that we intend to read some day. If somebody asked me how much I read, this would not be the same as the number of books I have bought. A similar case is with albums – people buy them in order for them to look good on shelves, so that we could look at the pictures of the Bieszczady and Tatra Mountains, or the beautiful birds on the Narew River. This is why the market situation is quite favourable for us," Waldemar Lipka argued.
The challenge for the printing industry, however, is the declining circulation of published titles. Although in 2010 the average circulation exceeded 5,700 copies, in 2014 it was 3,200, and currently around 2,500. As the expert emphasised, the vast majority of titles have a much lower circulation – around thousand or less. Only a small portion exceeds the circulation of 100,000 – these are books by popular authors which are expected to become best-sellers.
"Circulation below one thousand, and certainly that around 200-300, 500 copies, is best suited for digital publishing. In my opinion, this is an addition whose quality is beginning to match offset print. This is why we are taking a closer look at digital publishing. All the more so that the book delivery model has changed – someone orders 1000 books in the first print run, and then 100-300 in order to avoid storage costs," Lipka said.
The problems faced by the printing industry are mainly connected with payment delays and a poor condition of publishers. The analysis conducted by Bisnode Poland has revealed that within a year the percentage of book publishing and selling companies with a poor financial standing has increased from 44 to 53 percent. In turn, the BIG InfoMonitor report indicates that 5.4 percent of book publishers, and 3.7 percent of bookstore owners, have liabilities towards their business partners and banks. The total debt of publishers and bookstore owners, which is overdue by at least 30 days and regards the amounts of at least PLN 500, has reached PLN 35.3 m.
Online
Trade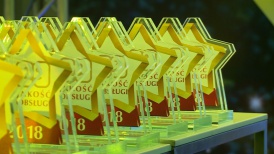 For six years the customer satisfaction index in Poland has grown by over 17 percentage points to nearly 78 percent, and it currently exceeds the customer satisfaction levels recorded in the USA and the United Kingdom. Service quality and its growing significance among businesses have had a tremendous impact on customer satisfaction. For the eleventh time the Customer Service Quality Star titles have been awarded to entrepreneurs recording the best results in this field.