News
This year issued green bonds can amount to USD 200 bn. Investments financed this way will help fight smog and global warming
| | |
| --- | --- |
| Says: | Marcin Petrykowski |
| Function: | Managing Director, Regional Head for Central and Eastern Europe |
| Company: | S&P Global Ratings in Poland |
Green bonds, where all the money must be directly used for environmental support measures, are growing in popularity. In 2018, the value of green bonds issued might reach USD 200 bn, compared to USD 13 bn in 2013. Poland has been the first country in the world to issue government green bonds, but worldwide a great majority of such bonds are issued by the private sector. Companies should make environmental protection a permanent fixture in their business models, argues Marcin Petrykowski from S&P Global Ratings.
"In general terms, 'green finance' refers to any financial market activity where funds are allocate to develop environmentally friendly investments or initiatives, meaning any projects designed to improve the climate or protect the environment in one way or another," Marcin Petrykowski, Managing Director, Head of EMEA Relationship Management, and Regional Head for Central and Eastern Europe, explains in his interview for Newseria Biznes.
Green finance refers not only to investments in solutions designed to protect the environment, but also those intended to provide regulatory support. Instruments for this type of investing are known as 'green bonds'. They are issued just like ordinary bonds, but all funds obtained from them must be used for projects which support environment protection.
"They constitute an asset class that is gaining importance on the capital market. We are seeing significant increase in issuance – by about 80% year-on-year over last 5 years. According to our estimates, in 2018 green bond issuance will reach USD 200 bn. Currently, such instruments account only for 2% of the total bond market, but this only further indicates their high growth potential," Petrykowski believes.
Standard & Poor's has estimated that in 2017 the value of green bonds reached USD 155 bn, compared to USD 90 bn a year earlier. Back in 2013, it was only USD 13 bn. Recently, Europe was the leader in terms of bond issue, but now more and more bonds are issued in developing countries, mainly Chile, India, and Mexico.
"In Poland, there have been two successful issuances, carried out by the State Treasury. Thanks to this the country successfully made its presence known in this segment. Now a growing challenge is to convert and adapt this instrument to a greater number of market players, namely companies and banks. Worldwide, as many as 2/3 of green bonds are now issued by the private sector," the Director explains.
Poland has been the first country in the world to successfully issue green bonds. The first issue took place in December 2016 and amounted to USD 750 m, including 5-year bonds with profitability at 0.634%. The funds obtained from these were used to finance projects related to sustainable agriculture, clean transport, renewable energy, etc. In January 2018, Poland made a second issuance of green bonds for investments associated with environment protection, this time for USD 1 bn. The demand was EUR 3.25 bn, and the profitability of the 8.5-year bonds reached 1.153%. But this was just the beginning and, according to our expert, if we want to be a major player in the region, we need to go for the green finance.
"This is a global trend that has gained traction since 2015, following 133 countries ratifying the Paris Agreement with its consensus on ambitious goals to reduce greenhouse gasses and combat global warming. We need to consider ourselves part of this commitment, especially that this path it being taken by all our neighbours" Petrykowski emphasises.
Environment protection is crucial for politics and economy. The European Union is taking steps to reduce carbon dioxide emissions, save energy, and increase the ratio of renewable energy to total energy production. Investments in environment protection are necessary, especially given the current air pollution levels. Such investments bring about notable effects for the environment. Take, for instance, China, which limited coal consumption in 2013 and banned the construction of new coal power plants. As a result, in Q4 2017 PM 2.5 levels were more than 50% lower than a year before.
In Poland, our expert argues, the challenge is to convince private companies to make green investments.
"We are part of the EU which adopted an ambitious policy related to adaptation and implementation of green investments and transition to an economy not dependent on fossil fuels but focused on renewable energy. Companies need to realise that environment protection is not only a way to manage risk but, in fact, a mean to create value, and an essential focus area for their business models," argues Marcin Petrykowski.
Online
Trade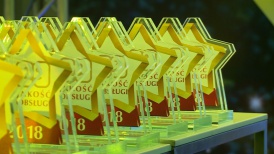 For six years the customer satisfaction index in Poland has grown by over 17 percentage points to nearly 78 percent, and it currently exceeds the customer satisfaction levels recorded in the USA and the United Kingdom. Service quality and its growing significance among businesses have had a tremendous impact on customer satisfaction. For the eleventh time the Customer Service Quality Star titles have been awarded to entrepreneurs recording the best results in this field.