News
Committed to growing tourism, the Port of Gdańsk will add more services to Sweden.
| | |
| --- | --- |
| Says: | Marcin Osowski |
| Function: | Vice-President of the Board for Infrastructure |
| Company: | Port of Gdańsk Authority |
"While the current number of passenger sea routes to Scandinavia is not impressive, ferry transport is becoming increasingly important for tourism. Tricity has a major chance for tapping this segment of the market," said Marcin Osowski, Vice-President, Port of Gdańsk. With a massive EU-co-funded investment programme in place, the Port is also committed to growing tourism. As a first step, it will add more ferry services to Sweden.
"As of now, we have only one ferry running between Gdańsk and Stockholm. A second ferry will be put into service in the next quarter. This will enable us to operate services on a daily basis, as opposed to every second day. I think this will trigger a further development of passenger routes between Poland, or Gdańsk, to be more specific, and Scandinavia," Marcin Osowski, Vice-President of the Board for Infrastructure, Port of Gdańsk Authority, told the Newseria Biznes agency.
Regular passenger and car routes to Nynäshamn, Sweden (about 60 km from Stockholm), are operated by the Westerplatte Ferry Terminal – a part of the Port of Gdańsk. The terminal lies close to the port's entry and not far away from the centre of Gdańsk. It is also well-connected to national and international road networks, especially between Gdańsk and Warsaw (a distance of 345 km) and the A1 motorway, which is accessible via the Southern Bypass of Gdańsk.
Currently, the 283-mile-long route between Gdańsk and Nynäsham is served by only one ferry – M/F "Wawel". The vessel has a capacity of about 1,000 passengers and 75 lorries, and offers a broad selection of tourist and passenger attractions on board – a restaurant, a café, several stores, a conference and film-screening room and a barbecue bar. The ferry is owned by Polska Żegluga Bałtycka – Polferries, the only ferry operator between Gdańsk and Scandinavia.
Starting in June, a second ferry called "Nova Star", also owned by Polska Żegluga Bałtycka, will start serving the route between Gdańsk and Nynäshamn. Made in 2011, the ferry has a maximum speed of 21 knots and a capacity of more than 1,200 passengers, as well as more cabin space. Also, it has loading parameters similar to "Wawel" and provides a range of on-board attractions for passengers. Currently, "Nova Star" is moored in the Port of Gdańsk for maintenance commissioned by the owner.
"With more than a dozen services daily, the Port of Świnoujście is the leader in Scandinavian routes, Gdynia also has six daily services to Stockholm, as well as to Karlskron. However, Polish ports, the Gdańsk port in particular, still have much work to do. I believe there is potential for a couple more north-south lines," said Marcin Osowski.
With a new vessel serving between Gdańsk and Scandinavia, we will be able to add more services (daily departures on-season) and meet the expectations of tourists and the growing market. According to Mr. Osowski, the growth of tourism can be facilitated not only by ferries, but also by cruises.
The more routes, the larger the opportunities for the entire tourist industry in Gdańsk to boom and reap large profits," Marcin Osowski said.
The Port of Gdańsk is a major international transport hub and an important link in the Pan-European Transport Corridor I, which connects Scandinavian countries with south-eastern Europe. In 2017 the Port of Gdańsk Authority completed projects worth a total of more than PLN 29 m. This year, a massive EU-co-funded investment programme (the EU provided a total of PLN 600 m in funding) was launched. It is expected to be largely completed by 2020.
Trade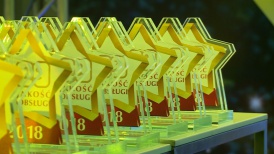 For six years the customer satisfaction index in Poland has grown by over 17 percentage points to nearly 78 percent, and it currently exceeds the customer satisfaction levels recorded in the USA and the United Kingdom. Service quality and its growing significance among businesses have had a tremendous impact on customer satisfaction. For the eleventh time the Customer Service Quality Star titles have been awarded to entrepreneurs recording the best results in this field.
Defence

As assessed by Krzysztof Krystowski, Deputy President of the Board of Leonardo Helicopters, the company which owns PZL-Świdnik, the Polish army and defence industry should undergo simultaneous modernisation. The participation of domestic entities in the army equipment tenders announced by the Ministry of National Defence (MON) is a huge opportunity. Given the scale and complexity of such contracts, their implementation will be based on strict cooperation between various Polish companies, with the potential cooperation between PZL-Świdnik and Polska Grupa Zbrojeniowa (Polish Armaments Group) in building a combat helicopter being an accurate example.
Technologies

More and more devices are becoming part of the 'smart home' concept. No longer limited to TVs or tablets, they now also include laundry machines, vacuum cleaners and even refrigerators. New ways to communicate with household appliances connected to the Internet are currently being brought to us by voice assistants. Now all that it takes to turn on the TV or switch between channels is a single voice command. A group of secondary-school students from Poland have decided to try and merge the 'smart home' concept with voice controllability. 'DAREK', the project they're working on, is addressed to disabled users to help them move around the house. Using voice control, not only will they be able to open the door or roll the blinds down but even stock up the fridge.