News
Warsaw to see almost PLN 3.2 bn in investment spend this year. Most of this money will be allocated for transport, roads, and culture
| | |
| --- | --- |
| Says: | Michał Olszewski |
| Function: | wiceprezydent miasta stołecznego Warszawy |
This year, Warsaw is planning to spend more than PLN 3.2 bn on investment. A portion of these funds will be allocated to patch up Warsaw's shortcomings in transport. The efforts will focus on the extension of the municipal transport system, including Line 2 of the Metro. A substantial amount of funds will be allocated for the extension of the educational and social infrastructure, as well as culture – including in particular Sinfonia Varsovia's concert hall, the Museum of Modern Art and the Teatr Rozmaitości theatre. Warsaw's authorities will also prioritise the fight against high emissions, including by getting rid of "dirty" stoves.
"It's no coincidence that two major transport-related items stand out in Warsaw's investment plans. Warsaw must continue catching up with the rest of the civilised world, since its transport system, including mainly metro and tram lines, is historically severely underinvested. This is our core investment objective and the largest spending item. Our second objective is to develop Warsaw's road system by constructing new roads, as well as upgrading the existing ones," Deputy Mayor of Warsaw Michał Olszewski stressed in an interview with the Newseria Biznes news agency.
This year, Warsaw has allocated more than PLN 3.2 bn for investment, of which PLN 2.0 bn will go to city-wide projects and PLN 1.2 bn to district projects.
"We're investing in the extension of the educational and social infrastructure, as well as in the repurposing of municipal centres, nursing homes and social welfare centres that provide ongoing aid to those in need. There has been a surge in silver-economy programmes addressed to senior citizens. Also, let's not forget about one of our flagship projects aiming to improve the city's green spaces by redeveloping squares and boulevards," Deputy Mayor said.
Culture will get its fair share, too. As Mr. Olszewski emphasised, there has been a growing need for expanding Warsaw's cultural resource to boost the city's image.
"Very soon, we will launch three projects of proportions unprecedented in our city's history – the Museum of Modern Art, the Teatr Rozmaitości Warszawa theatre and Sinfonia Varsovia. This will be a historic breakthrough. These three projects alone will cost more than PLN 1.1 bn. Warsaw has never had a budget this large to be spent on the construction of cultural institutions," Mr. Olszewski observed.
The city has also announced that it will build local centres in the Mokotów, Ochota, Rembertów, Ursów, Żoliborz and Wawer districts. Multiple regeneration efforts will also be undertaken within Praga Północ and Praga Południe.
But Warsaw is not only about investing in major projects. This year's plan sets aside about PLN 30 m on 257 participatory-budget projects.
"We've been seeing a growing number of small-scale projects in recent years as a result of our participatory budgeting programme, in which citizens approach us with their own proposals. We're starting to improve a range of things, like green spaces, but also pavements, playgrounds and recreational areas. We have several projects in place that are very important for shaping environmentally friendly attitudes, such as the Centre for Environmental Education," Michał Olszewski stressed.
Warsaw will prioritise the fight against smog, which, in addition to road traffic, is largely generated by "dirty" old stoves. Social activists have estimated that there are nearly 2,000 such stoves in Warsaw. In addition to getting rid of these harmful stoves, some fuels have been completely banned. According to Olszewski, the city expects that all "dirty" stoves will be removed by 2021-2022.
Online
Trade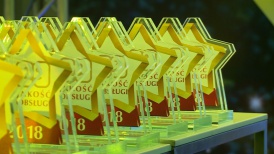 For six years the customer satisfaction index in Poland has grown by over 17 percentage points to nearly 78 percent, and it currently exceeds the customer satisfaction levels recorded in the USA and the United Kingdom. Service quality and its growing significance among businesses have had a tremendous impact on customer satisfaction. For the eleventh time the Customer Service Quality Star titles have been awarded to entrepreneurs recording the best results in this field.