News
Workers from eastern countries are indispensable for the logistics sector. It is necessary to simplify the employment procedures and to increase earnings
| | |
| --- | --- |
| Says: | Grzegorz Szenejko |
| Function: | President of Optimum GO |
By 2050 the shortages on the labour market will have reached around 10.6 m people aged 18-44. As the data published by Deloitte demonstrate, they can be compensated by the migration of 4.5 m employees from eastern countries. In 2017, 1.8 m declarations of the intention to commission work to foreigners were issued, 94% of which were for Ukrainians. The demand for workers from eastern countries is particularly high in the logistics sector, for which they are a guarantee of development. It is necessary to further simplify the employment procedures for foreigners from eastern countries and provide them with fair employment conditions. Without this, foreigners will choose Western European countries," claimed Grzegorz Szenejko of Optimum GO.
"The labour market in Poland is developing well enough to create a high deficit of workers, so we are compensating for this deficit with workers from eastern countries. In Poland, with the current unemployment rate, everyone willing to work already has a job. The whole Europe is on the rise; we are building numerous warehouses, logistics centres and plants. Workers are needed everywhere, and in Poland there is a shortage of them. So, we have a choice: to employ people from eastern countries or to do nothing, because we don't have the labour force to build new places or to work in the newly built facilities," stated Grzegorz Szenejko, President of Optimum GO, in a conversation with the Newseria Biznes agency.
According to Statistics Poland, the unemployment rate in January was 6.9%. It was by 0.3 pp. higher than in December, but still unprecedentedly low. Labour shortages are a problem reported by companies from almost all sectors. Therefore, they are increasingly often hiring workers from behind our eastern border.
In 2017, as shown in the preliminary data released by the Ministry of Family, Labour and Social Policy, 1.8 m declarations of the intention to commission work to foreigners were issued for approx. 1.1 m foreigners from six countries. This translated into an almost 40% increase as compared to 2016 in terms of the number of declarations. A considerable majority, i.e. 85% of work permits and 95% of the mentioned declarations, are issued to Ukrainians. Further positions in the ranking are occupied by citizens of Belarus, Moldova, India, Nepal, Turkey, Armenia, China and Vietnam.
"Employees from Belarus and Ukraine are indispensable for the logistics sector. The logistics industry is the second industry, following IT, with the highest demand for employees and few qualified people ready to take up a job. We need drivers, warehouse keepers, packers and other transport-related workers," Szenejko emphasised. "Poland holds a quarter of the European market. We have a chance for more, but we must have a potential for development, which, in addition to the machinery stock, logistics warehouses and the whole infrastructure, lies in workers, whom we are lacking."
Poland holds a very strong position on the European transport market. Our companies' share is approx. 25% and according to the projections of PwC, an advisory company, by 2025 international transport will have grown at a rate of 1.8-2.2% per year. We have been growing in strength from our accession to the EU and the opening of European markets. According to Statistics Poland, the direct contribution of the transport and logistics services sector to the Polish GDP rose by more than one fifth form Poland's accession to the EU (an increase from 5.4% in 2004 to 6.5% in 2015). However, the industry is facing a number of problems, especially related to employment, with the current demand for professional drivers reaching 100 thousand.
The Economic Immigration Barometer prepared in the 2nd half of 2017 by Kantar Millward Brown at the request of Personnel Service, demonstrated that every fifth company is planning to recruit workers from eastern countries, and in the group of large enterprises the percentage is 42%. However, according to the expert, simplifying the hiring procedure and raising earnings is of key importance.
"We must make it easier for these workers to come to our country and treat them equally to Polish employees, which means comparable earnings and fair employment conditions, otherwise we will not be able to develop further, and the workers will go to Western Europe. It is relatively easier for workers from Ukraine and Belarus to come to Poland than to Germany or France. Whether we will use this advantage depends both on our companies and legislative bodies. We should hire these workers and provide them with decent employment conditions, and the legal regulations should facilitate their engagement," Grzegorz Szenejko explains.
The data published by Upper Job show that the wage-related expectations of Ukrainians are growing, since 56% of them expect to earn at least PLN 3,000 net, and every fifth – more than 5,000. The research carried out by the company confirms that currently the Polish market is the most attractive for them. Despite the liberalised UE visa regulations, 80% of employees crossing the EU border would like to stay in Poland.
Online
Trade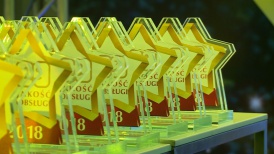 For six years the customer satisfaction index in Poland has grown by over 17 percentage points to nearly 78 percent, and it currently exceeds the customer satisfaction levels recorded in the USA and the United Kingdom. Service quality and its growing significance among businesses have had a tremendous impact on customer satisfaction. For the eleventh time the Customer Service Quality Star titles have been awarded to entrepreneurs recording the best results in this field.