News
A new concept by Volvo in central Warsaw. This is a first car dealership in the world with a coffee house and a cultural centre.
Says:
Stanisław Dojs, Press Spokesperson, Volvo Car Poland
Mariusz Nycz, Marketing Director, Volvo Car Poland
World's first Downtown Store by Volvo has just been opened in the very centre of Warsaw. It is a new concept of a car dealership with a coffee house and a cultural centre, where you can arrange a test drive or buy a car on the spot, while also enjoying a good coffee and music concerts. This way the brand wants to reach busy, hard-working residents of Warsaw who often don't have the time to visit a dealership located on the outskirts.
"Our Downtown Store will host some music concerts as leading artistic events which will follow some regular pattern. There will also be press conferences, and meetings with sailors and other people who pursue their diverse passions. The cultural package will be rich and will not be limited to music only," Stanisław Dojs, Press Spokesperson, Volvo Car Poland, told Newseria Bizness in an interview.
At the very heart of Warsaw, at Marszałkowska Street near the junction with Żurawia Street, Volvo has just opened its first Downtown Store. In addition to a car showroom, the Store will operate a coffee house and a cultural centre.
"It is a small-size car dealership but also a normal coffee house in the city centre. You can stop by to buy a car, or just sit down and have a coffee," Stanisław Dojs said.
Warsaw's Downtown Store is Volvo's first such facility in the world where you can see and buy a volvo as well as enjoy a good coffee and cultural events. The brand wants to reach busy residents of Warsaw who don't have the time to visit a traditional dealership.
"First of all, we want to sell cars and to reach clients who either work or live in downtown Warsaw by presenting our models, but also through various cultural events associated with Sweden, our brand, and Swedish culture. Our target group, meaning potential clients who could buy a volvo, are men, women, families, and all active residents of Warsaw. Downtown Store is the first such place in the world created by Volvo. We have even surpassed New York and Tokyo," said Mariusz Nycz, Marketing Director at Volvo Car Poland.
"We've won because we proposed the most coherent and visually appealing concept. Just come and see for yourself. It is a place where you can see what Swedish design and luxury looks like. It's minimalistic, inconspicuous, but manifesting itself in a consistent style and the use of natural materials, such as wood, metal, and crystal glass," Stanisław Dojs added.
The spokesperson emphasised that since the 1990s car dealerships had changed a lot. Now they are returning to city centres and aligning with the changing market and potential clients whose time is very limited.
Car dealerships have come a long way. In the early 1990s they were located in city centres, then they moved to the outskirts, and now they have come back to city centres again, but in a somewhat different form – more luxurious and sophisticated, because the people who buy cars often have a lot of money but are pressed for time and don't want to travel outside the city. Now you can not only come and see what each car looks like but also take it for a test drive right from our underground car park," Stanisław Dojs said.
Read also
Trade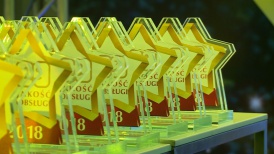 For six years the customer satisfaction index in Poland has grown by over 17 percentage points to nearly 78 percent, and it currently exceeds the customer satisfaction levels recorded in the USA and the United Kingdom. Service quality and its growing significance among businesses have had a tremendous impact on customer satisfaction. For the eleventh time the Customer Service Quality Star titles have been awarded to entrepreneurs recording the best results in this field.