News
As the economic drive of Central and Eastern Europe, Warsaw is attracting a growing number of investors
| | |
| --- | --- |
| Says: | Michał Olszewski |
| Function: | Deputy Mayor of Warsaw |
Warsaw is catching up with other capital cities in Central and Eastern Europe, attracting a growing number of investors. The city's advantages include extensive office space, access to qualified staff and the extrovert character of its residents. Warsaw's authorities are announcing further projects which will help to attract investors, as well as to prevent the consequences of such problems as the insufficient number of flats available on the market.
"Being the largest economic hub in this region of Europe is the main advantage of Warsaw. Some 10 to 12 years ago, it was a sort of a 'Cinderella' city, exhibiting great potential, yet always overshadowed by the likes of Budapest or Prague which were better at attracting big investments. Through the hard work, not only of the city authorities but also the entire market, it has managed to catch up with the leaders, fighting down the underdevelopment resulting from historical factors. Our country has become more attractive in terms of capital," stressed Michał Olszewski, Deputy Mayor of Warsaw, in an interview for the Newseria Biznes information agency.
The "European Cities and Regions of the Future 2018/19" ranking prepared by Foreign Direct Investment Intelligence showcases Warsaw at the forefront of European cities of the future. In terms of Business Friendliness, it was bested only by London and Dublin, and overtook Paris, Moscow and Budapest, among others. When it comes to strategies for attracting foreign investments, Warsaw is ranked eight, with the only city in the region ahead of it being Moscow.
"With office space not exceeding 3 m square metres a couple of years ago, today Warsaw can boast 5.3 m of such space. This will soon be twice the Prague figure [3.3 m square metres – editor's note]. It is difficult to compare Warsaw with other Polish cities. The entire office space in all medium-sized and big cities in Poland is less than that available space in the capital. We want to prove that Warsaw is the economic drive of Central and Eastern Europe," Mr Olszewski said.
At present, there are 5.3 m square metres of office space in Warsaw, 49 percent of which is A-class space. For the sake of comparison, office space in Kraków covers an area of slightly more than 1 m square metres, and in Wrocław 900,000 square metres. In the six largest agglomerations in Poland excluding Warsaw (i.e. in Kraków, Wrocław, Tricity, Katowice, Poznań and Łódź), the total office space equals approx. 4.2 m square metres. In 2017, 27 buildings with a total area of 275,000 square meters were completed in the capital. Further 810,000 square metres of office space are currently under construction.
It is estimated that about 28,000 flats were purchased in 2017. According to experts, it is not the demand, but the supply which causes problems. Also, the employee market in the construction industry creates problems with finding the sufficient workforce.
"We want to make further investments in infrastructure, which will improve the city's international accessibility, also making it possible to reduce traffic. At present, transit traffic flows, to a large extent, through Warsaw. Another crucial element includes further investments in public transport, which will facilitate a more sustainable traffic within the city," Michał Olszewski announced.
The Ministry of Infrastructure envisages that the so-called big ring road of Warsaw will have been completed by 2027. The city also projects that the development of public transport will overtake car transport in several years' time, in terms of the number of passengers. Currently, public transport carries 1.2 bn passengers, accounting for approx. 57 percent of all non-pedestrian journeys in Warsaw.
Read also
Online
Trade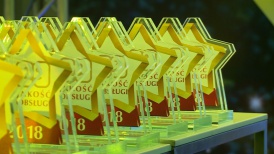 For six years the customer satisfaction index in Poland has grown by over 17 percentage points to nearly 78 percent, and it currently exceeds the customer satisfaction levels recorded in the USA and the United Kingdom. Service quality and its growing significance among businesses have had a tremendous impact on customer satisfaction. For the eleventh time the Customer Service Quality Star titles have been awarded to entrepreneurs recording the best results in this field.