News
Low inflation is good news for economy and consumers. This can mean two more years without any increase in interest rates
| | |
| --- | --- |
| Says: | Piotr Kuczyński |
| Function: | Chief Analytics Officer |
| Company: | Xelion Investment House |
In March inflation was only 1.3 percent in annual terms and it was the slowest increase since December 2016 – the first month to have recorded an increase after 2.5 years of deflation. Such low figures are so surprising that they might even be incorrect, claimed Piotr Kuczyński, CAO at Xelion. But there is no risk of going back to deflation. The continuing slight increases in prices are delaying increases in interest rates.
"Without doubt, the current inflation level at 1.3–1.4 percent is favourable, as it is not eating away at the money people make, and, consequently, their purchasing power is growing. Internal demand, in turn, is supporting our economic growth, so this is undoubtedly a moderately beneficial inflation," Piotr Kuczyński, Chief Analytics Officer at Xelion Investment House, told Newseria Biznes.
Growing salaries, the Family 500+ programme, and low unemployment rates are all contributing to growing purchasing power among Poles. In addition, despite its return more than a year ago, inflation seems to be kept under control. It reached 2.5 percent, corresponding to the inflation goal set by the Monetary Policy Council, just once in November 2017, only to slow down again. Therefore, interest rates are most likely to remain at the current, extremely low, level for a long time.
"There is certainly no risk of deflation at the moment as the labour market is too tight – there is not enough workers, the unemployment rate is too low, and the price of oil is currently too high for us to be at risk of deflation. In fact, you could say that inflation is surprisingly low and I'm not sure if this is not some kind of mistake on the part of our Statistical Office," Piotr Kuczyński wondered. "After the Monetary Policy Council meeting held on 11 April, Adam Glapiński, President of the National Bank of Poland, said that he was not expecting any increase in interest rates for the following two years, which was a very bold thing to say. I think at this moment no analyst is able to anticipate what will happen in two years' time, what the exchange rate for the Polish zloty, or the price of oil, will be, etc. But interest rates are certainly not going to increase this year – of this we are sure.
Interest rates have remained at historically low levels for more than three years, i.e. since March 2015, and there is nothing at the moment that would suggest their increase. This is good news for all those who have taken out variable-rate loans in PLN. Not so much so for those who hoped for handsome returns on their deposits, or for banks themselves. In 2017, the banking sector earned nearly PLN 13.6 bn net, Polish Financial Supervision Authority (KNF) reports. This is more than 300 m less than a year earlier, but still much more than in 2015, when net profit made by banks failed to reach PLN 11.2 bn. But banks are recording stock exchange decreases. Since 22 January, WIG-banks, an industry index, has gone down 13.5 percent.
"For banks, low inflation and low interest rates are very bad news, because they are unable to charge as much on their loans, which, in turn, is very good news for borrowers," Piotr Kuczyński argued. "This is also bad news for anyone who has deposits, because along with charging less on credits, banks are significantly cutting interest rates on deposits.
Strangely enough, low interest rates have not proven detrimental to the Polish zloty. Indeed, between mid-February and mid-March the Polish currency slightly depreciated in relation to euro, but – barring its peak in early 2018 – it has been the strongest in almost three years. In relation to USD, PLN has been the strongest since late 2014, and CHF nearly returned to the level from before its unpegging to EUR in mid-January 2015. So those who have taken out loans in CHF also have reasons to be happy.
"In theory, the lower the inflation, the weaker the currency should be, and conversely, the higher the inflation, the stronger the currency, for obvious reasons – more money for bonds, which are more profitable under higher inflation circumstances. But this doesn't seem to be the case in Poland," Xelion's CAO said. "Following preliminary data about low inflation, zloty fell a little, but not much. After that, it has only been rising. It seems that zloty's purchasing power is now being determined more by flows on global markets than by our inflation level.
Read also
Online
Trade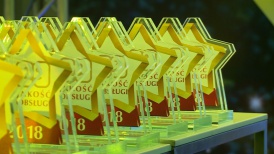 For six years the customer satisfaction index in Poland has grown by over 17 percentage points to nearly 78 percent, and it currently exceeds the customer satisfaction levels recorded in the USA and the United Kingdom. Service quality and its growing significance among businesses have had a tremendous impact on customer satisfaction. For the eleventh time the Customer Service Quality Star titles have been awarded to entrepreneurs recording the best results in this field.