News
More private capital for start-ups in Poland. Equity crowdfunding is becoming more popular.
| | |
| --- | --- |
| Says: | Julia Krysztofiak-Szopa |
| Company: | Startup Poland Foundation |
The sources of financing start-ups have changed considerably over the last few years. The accessibility of EU funding via national institutions is growing. Venture capital funds are also gaining in importance. A relatively new form of financial support is equity crowdfunding. This year, limits for obtaining funds under this model have been increased to as much as EUR 1 m. Poland and eastern-European markets are becoming more attractive for investors.
Recently, equity crowdfunding has become all the rage in start-up financing. In this form of crowdfunding, support for a business or a project is provided in exchange for shares in the future undertaking. The number of shares depends on the sum of financial support. In Poland, equity crowdfunding is becoming popular as a result of recent regulatory changes. The cap for public offerings without prospectuses has been increased from EUR 100,000 to EUR 1 million. The Office of the Financial Supervision Authority (KNF) is thinking about possibly raising this limit even further to EUR 5 m.
"A new and very interesting form of obtaining financing for start-ups is equity crowdfunding. This year, the limit for start-ups for securing financing without prospectuses has been increased. So they are now in a situation as if they could go public and obtain the funds on the stock market, but they don't actually have to do this on the stock market, as they can now use equity crowdfunding for this purpose," Julia Krysztofiak-Szopa from Startup Poland Foundation explained in an interview for Newseria Innowacje.
Experts believe that the changes introduced by KNF are going to encourage Polish equity crowdfunding, which is expected to record a growth from PLN 20 m to up to PLN 80 m this year, and even up to PLN 100 m in 2019. The potential of crowdfunding to become one of the leading forms of business financing in Poland, and the appeal of the Polish market to foreign investors, are proven by the fact that this year has already seen two new online crowdfunding services being launched.
The first is a branch of FundedByMe, a giant from Sweden. The service has already helped about 470 companies from 25 countries obtain EUR 50+ m. What this means for Polish start-ups is access to a network with 100,000+ investors where they can obtain up to EUR 1 million worth of funding for their projects. The second service, CROWDragons, is intended for game developers and companies providing virtual reality or augmented reality products. The financing model operated by this service significantly reduces investment risks as it only allows projects which have been completed in at least 70 percent.
"There are more and more support options for start-ups. But, above all, there is more private capital and more large private investors. Of course, there is also a major government programme supporting innovation, which is organised and managed by the Polish Development Fund (PFR). But start-ups are still waiting for the institution to start spending money and investing in venture capital funds, which, in turn, will encourage start-ups to grow further," Julia Krysztofiak-Szopa said.
A clear trend is the departure from external sources in favour of start-up's own capital and investing the profits in company's development. This solution is now preferred by 62 percent of surveyed companies. But this does not mean that businesses are completely turning their backs on external financing. It is important to note that in 2017 support for start-ups amounted to EUR 890+ m from VC funds.
Specialists believe that both Poland and CEE as a whole are now a great place to do innovative business. In addition to EUR 1+ billion's worth of VC funds, such investments are supported by lower business costs. Many businesspersons are considering moving their operations to one of the Baltic countries.
Read also
Trade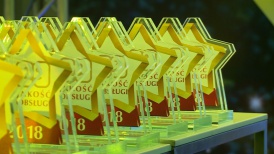 For six years the customer satisfaction index in Poland has grown by over 17 percentage points to nearly 78 percent, and it currently exceeds the customer satisfaction levels recorded in the USA and the United Kingdom. Service quality and its growing significance among businesses have had a tremendous impact on customer satisfaction. For the eleventh time the Customer Service Quality Star titles have been awarded to entrepreneurs recording the best results in this field.
Defence

As assessed by Krzysztof Krystowski, Deputy President of the Board of Leonardo Helicopters, the company which owns PZL-Świdnik, the Polish army and defence industry should undergo simultaneous modernisation. The participation of domestic entities in the army equipment tenders announced by the Ministry of National Defence (MON) is a huge opportunity. Given the scale and complexity of such contracts, their implementation will be based on strict cooperation between various Polish companies, with the potential cooperation between PZL-Świdnik and Polska Grupa Zbrojeniowa (Polish Armaments Group) in building a combat helicopter being an accurate example.
Technologies

More and more devices are becoming part of the 'smart home' concept. No longer limited to TVs or tablets, they now also include laundry machines, vacuum cleaners and even refrigerators. New ways to communicate with household appliances connected to the Internet are currently being brought to us by voice assistants. Now all that it takes to turn on the TV or switch between channels is a single voice command. A group of secondary-school students from Poland have decided to try and merge the 'smart home' concept with voice controllability. 'DAREK', the project they're working on, is addressed to disabled users to help them move around the house. Using voice control, not only will they be able to open the door or roll the blinds down but even stock up the fridge.