News
More than half of Polish companies employ foreigners. Employees do not see them as a threat to their own jobs
| | |
| --- | --- |
| Says: | Katarzyna Lorenc |
| Function: | job market expert with the Business Centre Club |
There are too few potential employees with appropriate qualifications in Poland, which is why employers decide to hire foreigners, especially from Ukraine. 100 percent of companies asked cite this as the reason they are looking for foreign specialists. Only last year, foreigners were granted 6.5 times more work permits than in 2010. The vast majority of Poles do not see them as a threat to their own jobs.
According to the data of the Ministry of Family, Labour and Social Policy, in 2017 foreigners were granted 235,626 work permits, of which 61,275 were granted to women. For comparison, 7 years before the total number of approved requests was 36,622. Most permits, 46,510, were in construction and the second field was transport and logistics (32,781). Industrial processing was third with almost 25,000 permits. The largest group of foreign employees, 192,547, were Ukrainian citizens. The second largest group, from Belarus, was 18 times smaller (10,518). Citizens of Nepal represented the third most numerous group – 7,075.
Foreigners usually apply for jobs in the Mazowieckie (over 75,000), Śląskie (more than 23,000) and Małopolskie (22,000) Provinces. The lowest number of permits were granted in the Podlaskie and Świętokrzyskie Provinces (2,900 and 3,250, respectively).
"In 2014 the dominant group among foreign arrivals was women, usually over 40, who took up work as babysitters or cleaning ladies. This has been changing for a few years now, as we mainly encounter young men up to 33 years old who come here to work in the construction industry, tourism, industrial processing and agriculture," Katarzyna Lorenc, BCC job market expert, told Newseria Biznes. "46 percent of those people hold higher education degrees and a third of them claim that they're working below their qualifications. A lot of people come here and take up studies and more and more people consider staying here permanently."
A BCC and International Organisation for Migration (IOM) survey shows that over a half of the surveyed companies employ foreigners (54.5 percent). A much higher number, over two thirds of companies, are interested in employing foreigners for longer periods of over 9 months (68.2 percent). All respondents said that the reason why they employ foreign citizens is the lack of Polish employees having appropriate qualifications. The answer "because they are less expensive" was given by only 18.2 percent.
In February the unemployment rate was at 6.8 percent and was only 0.3 pp higher than the November record of 6.5 percent. This is, however, a seasonal effect. As at the end of February 2018 there were 1.1 million unemployed people in Poland, 18.6 percent fewer than the year before. Although this group includes people who left the job market due to retirement (lower retirement age) or decided to stay at home due to the "Family 500+" benefits, employment has increased as well. In the enterprise sector it was 3.7 percent higher than the year before and amounted to nearly 6.2 m people which is the highest result in history (Statistics Poland has published this data since 2005). As at the end of September 2017 a total of 9.2 m people were employed in the whole national economy, which is 3.4 percent more than the year before. Two thirds worked in the private sector (this data excludes companies employing up to 9 people).
"Last year's survey shows that 90 percent of employees are very well disposed towards Ukrainians. They do not see in them a threat to their own jobs, as foreigners take up jobs Poles do not want to do, so they are a very good complementary labour force"– Katarzyna Lorenc points out.
However, there is a small group (approx. 7 percent) among those surveyed who have a negative attitude towards foreigners.
"These are very young people aged 18-22, who see Ukrainians as a threat, especially in terms of their accepting work for lower salaries. Ukrainians don't insist on higher wages, as the change they experience after coming here is already significant. This makes the bargaining position of Polish employees slightly weaker," Lorenc said.
The average monthly gross wages and salaries in the national economy in the first three quarters of 2017 (Statistics Poland will publish the data for the whole year on 30 April) was PLN 4,276, which is 4.9 percent higher than in the corresponding period of the previous year. It was PLN 4,698.77 in the public sector, which means a 3.4 percent growth against the corresponding period of the previous year, and PLN 4,105.29 in the private sector (5.8 percent growth). The purchasing power of the average monthly gross wages and salaries in the national economy was 3.0 percent higher than the year before (data for all companies, including those with fewer than 9 employees).
Read also
Trade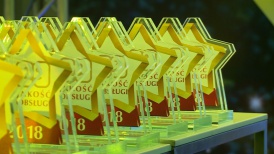 For six years the customer satisfaction index in Poland has grown by over 17 percentage points to nearly 78 percent, and it currently exceeds the customer satisfaction levels recorded in the USA and the United Kingdom. Service quality and its growing significance among businesses have had a tremendous impact on customer satisfaction. For the eleventh time the Customer Service Quality Star titles have been awarded to entrepreneurs recording the best results in this field.