News
The first VR simulator for training specialists in aesthetic medicine. The simulator will increase the safety and innovativeness of dermatological procedures
| | |
| --- | --- |
| Says: | Tomasz Kierul |
| Function: | CEO |
| Company: | InventionMed |
Medicine is one of the fields recording the fastest technological development. Virtual reality unravels new possibilities, enabling the performance of telemedical procedures and advanced training courses without experimenting on actual patients. Physicians specialising in plastic dermatology and clinical dermatology will soon have an opportunity to undergo training using a VR simulator. The equipment is to ensure a high level of realism thanks to double immersion. The market launch of the simulator is planned for 2020.
VR simulators are used not only in the entertainment industry and video games. They are increasingly often applied by train drivers, pilots and production line operatives. The group of professions for which training with the application of VR solutions is available also includes aesthetic medicine specialists.
"The TutorDerm project consists of implementing a simulator based on virtual reality which can be used for simulating aesthetic and clinical dermatology procedures. This is not a typical VR solution used in gaming and entertainment, because it uses double immersion. A physician wearing VR goggles and touching the control lever with sensors, which simulates the tip of a dermatological device, is seeing and touching a patient's head in VR and feeling resistance on the control lever as if it was a real patient's head," explained Tomasz Kierul, CEO of InventionMed, in an interview with the Newseria Innowacje agency.
This is not the first solution connecting virtual reality with medical practice. The NOViSE project is a simulator for training surgeons in experimental procedures carried out through the natural orifices in the human body. Physicians working at the Cardiology Institute in Anin use Google Glass for coronary angioplasty procedures. The solution makes it possible to monitor the patient's vital parameters and test results during the procedure. Furthermore, mobile apps are being created to enable inspecting through HoloLens or AR goggles the patient's internal organs in four dimensions with the use of diagnostic imaging. The VR technology is a natural direction in the development of medicine.
"Simulators are penetrating every domain of life and economy. Previously it was aviation and communication, and today it is industry. It is only natural for simulators to be present in medicine. We believe that these solutions are the future of medicine. Prospective physicians, who in the future will work with patients, will move from theory to our devices, and then to actual patients. It seems that these solutions are an indispensable element of medicine which determines its future. Today it's dermatology, but tomorrow it may be surgery. As a target, our plans include creating a whole virtual hospital," Tomasz Kierul stated.
VR simulators in the physician training process may improve patient safety. Before a new or complicated medical procedure is carried out on a person, it will be possible to test it out on a simulator, applying various scenarios. This may be of key importance especially for developing innovative treatment methods.
The market launch of TutorDerm has been planned for 2020, and producers are intending to make its prototype available to medical establishments in Poland and abroad. In the first phase the simulator will enable conducting a virtual head surgery, but further versions are planned.
"We wish to expand the simulator to include the thorax, arms and back, to be able to simulate dermatological conditions in these areas, and the third version will feature the whole human body with various dermatological disorders. The head is a conscious choice because it is the most visible and the majority of dermatological procedures are performed in this area," the CEO of InventionMed concluded.
According to the Markets and Markets forecasts, by 2022 the world medical simulator market is to exceed 2.5 bn dollars in value with the average annual growth rate of nearly 15 percent.
Read also
Online
Trade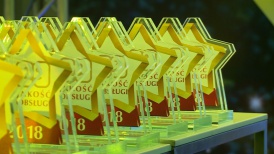 For six years the customer satisfaction index in Poland has grown by over 17 percentage points to nearly 78 percent, and it currently exceeds the customer satisfaction levels recorded in the USA and the United Kingdom. Service quality and its growing significance among businesses have had a tremendous impact on customer satisfaction. For the eleventh time the Customer Service Quality Star titles have been awarded to entrepreneurs recording the best results in this field.