News
The value of investments on the private equity fund market is growing. The well-off are using them as a way to deposit their money.
Says:
Michał Staszkiewicz, Vice-President of the Management Board, Private Equity Managers
Jarosław Dubiński, Managing Partner, Dubiński Jeleński Masiarz i Wspólnicy
The development of private equity funds in Poland is gaining momentum. In 2017, the value of investments on our market reached nearly EUR 7 bn. But compared to developed markets we're still going through the stage of early growth, says Michał Staszkiewicz, Vice-President of the Management Board, Private Equity Managers and MCI Capital TFI. The funds, which invest in private companies, are a good alternative to low-interest deposits and to the volatile stock market. They are more resistant to economic fluctuations, and they rely on long-term strategies and diversified portfolios. But this form of investing is not for everyone.
"Private equity funds are an attractive form of investing for people who are experienced investors, or who have run their own business, but especially for those who are thinking about the succession of their assets. Those are private banking customers with longer investment horizons, who are ready to invest their money for as long as 10 years," Michał Staszkiewicz, Vice-President of the Management Board, Private Equity Managers and MCI Capital TFI told Newseria Biznes.
Private equity is not a product for the masses. It is a more exclusive form of enlarging your money surplus and diversifying your investment portfolio. This form of investment has been created for more conscious and experienced investors and wealthy private banking clients.
Private equity funds have more long-term strategies and diversified portfolio structures. Such investments are resistant to economic cycles, and remain safe and profitable over the long-term. Profits generated by private equity funds in 2001-2018 amounted to about 280 percent. For comparison, during that time the American Stock Exchange index grew by approx. 160 percent.
Jarosław Dubiński, Managing Partner, Dubiński Jeleński Masiarz i Wspólnicy, emphasises that investments into companies from private equity funds mean much more than extra cash. In addition to money for development, such funds provide their portfolio companies with know-how and management experience, as well as recommending specific solutions, looking for competitive advantages and creating new strategies. With all this, companies have much more opportunities for growth.
"Such cooperation is possible in a system where the private equity fund does not buy out 100 percent of previous owners. Instead, the fund takes over minority equity or one comparable to that held by the previous owner. Based on an investment agreement, the fund supports company's operations in a way that allows the private equity fund to control the invested capital, while the owner can develop the directions agreed with the fund. Then the private equity fund chooses the best way of leaving the investment with profit for the investors," Jarosław Dubiński, Esq., said.
In order to increase the availability of products offered by private equity funds on the Polish market, we need regulatory changes and a shift in the approach of the authorities that oversee the institutions regulated on the financial market.
"We need clear provisions that would allow pension funds to invest in private equity funds. Although this is allowed under the applicable law on the organisation and functioning of retirement funds, the position of the overseeing authority is not favourable and there are virtually no investments made by the pension funds," Jarosław Dubiński added.
In the previous year, the value of private equity investments in Poland reached about EUR 7 bn. This was largely due to two major transactions, namely the sale of Allegro to a group of PE funds, and the take-over of Żabka by CVC Capital Partners.
Read also
Trade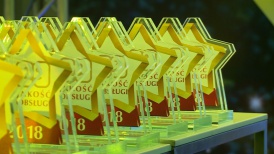 For six years the customer satisfaction index in Poland has grown by over 17 percentage points to nearly 78 percent, and it currently exceeds the customer satisfaction levels recorded in the USA and the United Kingdom. Service quality and its growing significance among businesses have had a tremendous impact on customer satisfaction. For the eleventh time the Customer Service Quality Star titles have been awarded to entrepreneurs recording the best results in this field.