News
Towns and cities are in want of innovative solutions for fighting smog. They are looking for start-ups which could deliver such technology.
Says:
Marcin Lewenstein, Innovation Officer, EIT InnoEnergy

Michał Kraszewski, Business Creation Manager, EIT InnoEnergy
Energy poverty, which affects up to 4.6 m people in Poland, the problem of smog in towns and cities, cyber-security of power plants and the digitisation of the power industry as a whole – these are only some of the challenges that can be addressed through energy sector innovation. Start-ups provide completely new solutions and perceive business in an entirely different way compared to traditional, conservative energy businesses.
"We are trying to develop new solutions to address the challenges faced by the energy sector. And there are a lot of those. One of such challenges is air pollution. Key contributors to this problem are transport and heat engineering, or, more precisely, the individual heating systems we use in our homes. This problem can be solved with innovative solutions in the energy industry," Marcin Lewenstein, Innovation Officer at EIT InnoEnergy, told Newseria Biznes.
Compared to the rest of Europe, Poland shamefully ranks on top of the list of countries with the most polluted air. The number of days on which the maximum acceptable level of air pollution is exceeded in Polish towns and cities is record-breaking. But smog is not the only problem which could at least partially be solved with energy innovation. Other issues include energy poverty, which, as reported by the Institute for Structural Research (IBS), affects 12 percent of people living in Poland (approx. 4.6 m), and threats to cyber security, as hackers are more and more often targeting power plants in their attacks. In June 2017, hackers attacked the closed power plant in Chernobyl, and a month later they made an unsuccessful attempt to take over the control of energy flow in the whole of Ireland.
"Another aspect is the cost of power production and the price we have to pay for using electricity. Innovations in the power industry and the cleantech sector help reduce these costs to make energy more accessible. This is particularly important in Central and Eastern Europe, where energy poverty is a serious problem," Marcin Lewenstein said. "There are also issues connected with the labour market and economic situation. Competitiveness in our globalised world is based on many aspects, and one of such aspects is access to cheap and clean energy."
Lewenstein went on to argue that innovation in the energy industry, including cleantech (actions to implement products or processes which contribute to the production of renewable energy or green materials – ed.), provides an opportunity to rise up to contemporary challenges and global megatrends, such as the transfer of people to towns and cities, which calls for investments in smart cities solutions and circular economy.
"This is another megatrend which has captured the imagination of innovators from around the world. Using energy, heat from waste, and obtaining energy from places where there is a surplus of it. Another area is materials science and engineering, and it can prove of key importance for matters associated with energy production and storage. Last but not least, there is energy industry digitisation. This is not only about blockchain or IoT, but also prediction diagnostics, automation, robotics, and, most importantly, cybersecurity. We are focusing heavily on these solutions," Marcin Lewenstein said.
Start-ups are generating completely new ideas and solutions, as opposed to traditional and conservative energy companies. The advantages such young and innovative companies have is their ability to adapt, the speed with which they learn, take decisions and prepare prototypes, the ability to learn from their mistakes, and their openness to international cooperation.
Read also
Trade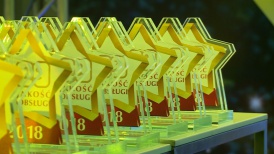 For six years the customer satisfaction index in Poland has grown by over 17 percentage points to nearly 78 percent, and it currently exceeds the customer satisfaction levels recorded in the USA and the United Kingdom. Service quality and its growing significance among businesses have had a tremendous impact on customer satisfaction. For the eleventh time the Customer Service Quality Star titles have been awarded to entrepreneurs recording the best results in this field.