News
When investing, Polish start-ups mainly use state funds. Poland has been seeing a growing interest in venture capital funds, but many of these funds still aren't working well
| | |
| --- | --- |
| Says: | Julia Krysztofiak-Szopa |
| Function: | CEO of the Startup Poland foundation |
| Company: | Fundacja Startup Poland |
More than 80 percent of investment in the development of Polish start-ups is state-funded. The reason for this is the still underdeveloped private-funds market. The Polish market for high-risk start-ups is slowly catching up with the world in professionalism. About 10-20 percent of venture-capital funds in Poland can already be considered as top-performing funds. However, the percentage of those that aren't working well is still too high.
"The venture-capital business in Poland is now made up 10-20 percent of best-of-class funds that excel at breeding start-ups, maintain international relations and can help start-ups secure clients, recruit management, etc., while a third of funds perform very poorly," said Julia Krysztofiak-Szopa, CEO of the Startup Poland foundation, in an interview with the Newseria Innowacje news agency.
Venture-capital funds invest primarily in new businesses. Such investments run a high risk of failure in the mid- and long-term. But they can also turn out very successful – VC funds provided funding to such powerhouses of today's business as Snapchat, SpaceX, Uber and Xiaomi. The Polish VC funds market is still in its infancy, but it is getting more and more professional. There are a growing number of businesses that provide start-ups with services of ever-growing quality, although these services haven't become comprehensive yet and continue to focus only on financial support.
"Start-ups have noticed that the VC funds market is getting more professional and more approachable, but there is still a certain incompatibility between what start-ups expect apart from capital and what VC funds can provide them with apart from capital. This is especially true of the need among start-ups to have the assistance of VC funds in preparing for investment rounds; for instance, to help go public," the expert pointed out.
As shown by a Startup Poland report entitled "The Golden Book of Venture Capital in Poland 2018", a whopping 81 percent of investment transactions among the surveyed start-ups were state-funded. In contrast, only 20 percent of investors stated that they had not made any state-funded investments. It is also important to note that the costs of investing in Poland are much lower than abroad.
"So far, a whopping four fifths of all investment transactions in Poland have been leveraged with state funds. To get private capital on board, which is more difficult than getting a grant from, say, the National Centre for Research and Development – which, by the way, was our survey partner – you need to have extensive business contacts with investors that are capable of investing in VC funds," Julia Krysztofiak-Szopa argued.
The leading state investor was the National Capital Fund, whose funding was involved in 37 percent of the surveyed transactions. With a nearly 25-percent contribution, the Polish Agency for Enterprise Development came second, and the National Centre for Research and Development (NCiBR), whose funding was involved in one in tenth transactions, came third.
However, start-ups are increasingly setting their sights on drawing in venture capital funding. Last year, 40 percent of start-ups invested in by external investors were venture-capital funded. Polish investors have been particularly interested in big data, Internet of Things and marketing technology start-ups. However, venture investment in Poland is still too low, prompting a considerable 44 percent of Polish start-ups to look for investors abroad.
In 2017 Polish VC funds had a total of 700 businesses in their portfolios. In early 2018 the European Commission announced that it would invest EUR 410 m in the most innovative start-ups in the EU as part of the VentureEU programme.
Read also
Trade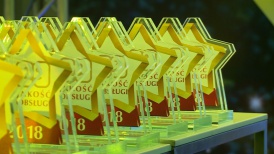 For six years the customer satisfaction index in Poland has grown by over 17 percentage points to nearly 78 percent, and it currently exceeds the customer satisfaction levels recorded in the USA and the United Kingdom. Service quality and its growing significance among businesses have had a tremendous impact on customer satisfaction. For the eleventh time the Customer Service Quality Star titles have been awarded to entrepreneurs recording the best results in this field.