News
Low turnover on the Polish stock exchange is a cause for concern. Investors' knowledge on Polish market is still lacking
| | |
| --- | --- |
| Says: | Michał Stępniewski |
| Function: | Vice President of the Management Board |
| Company: | The Central Securities Depository of Poland |
According to Michał Stępniewski, this trend on the Polish stock exchange, which has been noticeable for at least two years, is a disturbing one. The difficult situation of the Warsaw Stock Exchange was caused by very low turnover, which has arisen from insufficient activity of investors in financial and commodity markets. Education is indispensable for boosting the Polish stock exchange, because, as experts say,Poles' awareness of capital markets is still low.
"The trend which we have been observing over the last 2-3 years, visible especially during the first quarter, when the turnover considerably dropped, is disturbing. The turnover level is a sort of an indicator of the situation on the market. As the turnover is falling, and there are no other reasons for this situation apart from investors' activity, these are not good times for the WSE. Low turnover means poor liquidity, and if there is no liquidity, there are no investors, which means that we can find ourselves in a vicious circle, all the more so that no new securities are being issued," stressed Michał Stępniewski, Vice President of the Management Board of the Central Securities Depository of Poland.
In Q1 2018, the value of stock turnover on the main market in session transactions amounted to PLN 54 billion. In Q4 2017, the turnover amounted to PLN 58 bn, as compared to PLN 67 bn last year. During this time, two new companies made their debut on the stock exchange, whereas in the last months of 2017 there were five of them.
"Education is vital for the stock exchange in Poland to operate successfully. This element has been disregarded during the 25 years of the operation of the Polish market," assessed Michał Stępniewski. "It is necessary to educate new investors at every stage of education, starting from primary school through further steps in their education, as every citizen is a potential investor. You cannot be actively involved in the market or participate in related events taking place in Poland without the knowledge of capital market mechanisms," he explained.
The results of a survey entitled "Poles' attitudes towards finance", carried out by the City Handlowy Bank's Kronenberg Foundation, show that the awareness of stock exchange among general population is insufficient. Over half of the respondents are unaware of the role of stock exchange, and one in five said that it was a speculators' paradise. Only 12 percent of respondents deemed the stock exchange beneficial for the country's economic development.
"Our citizens are still not convinced that even though the capital market does involve some risk, it is worth taking active part in it, not necessarily as a retail investor who makes independent investment decisions, but through investment companies focusing on such activity. Unfortunately, this is not the case, hence the high deposit-to-investment ratio on the capital market," said KDPW Vice-President during the European Economic Congress in Katowice.
According to the survey carried out by the Conference of Financial Companies in Poland and the SGH Research Institute for Economic Development, over half of Polish households keep their savings in cash. 43 % of respondents save money on bank deposits, while only a small proportion of them decide to invest their savings. A questionnaire by Deutsche Bank shows that this year, 7.1% of the respondents are interested in buyinginvestment fund units, and 4.1% are interested in buying stock. The popularity of individual pension accounts and individual pension security accounts (IKE and IKZE) is gradually growing, and as of date 7.3% of households have joined such schemes.
"In order to encourage investments on the Polish stock exchange, we need to show positive examples, that is investments which were made in a thought-out manner and are now generating profit. On the other hand, statistically, people in the 30-50 age group still have several dozen years to live. There comes a time when they cease to be professionally active, but still wish to keep their standard of living at least at the same level as during their working life," said Mr Stępniewski.
We should also present success stories to companies who are potential issuers. KDPW Vice-President stressed that these companies should not perceive stock exchange only through the perspective of companies which hadnot managed to succeed. He pointed out that in 2017 a hundred companies announced their intention to pay dividends, including 43 companies which increased the amount of dividends as compared to previous year, and 8 companies with dividends exceeding 6%. This year, seven companies are proposing dividends in excess of 9%.
"Acquiring new issuers means the ability to accurately depict the realities of stock exchange and the advantages related with the presence of companies at the Warsaw Stock Exchange. This is an opportunity to present success stories. There are companies which started out as small 'garage' businesses, and have evolved into corporations worth several hundred million zlotys. This wouldn't have been possible without the WSE. This form of gaining capital by the stock exchange, meaning new stock issues and investor participation, is the least expensive method," stressed Michał Stępniewski.
Read also
Online
Trade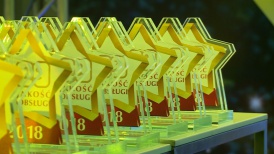 For six years the customer satisfaction index in Poland has grown by over 17 percentage points to nearly 78 percent, and it currently exceeds the customer satisfaction levels recorded in the USA and the United Kingdom. Service quality and its growing significance among businesses have had a tremendous impact on customer satisfaction. For the eleventh time the Customer Service Quality Star titles have been awarded to entrepreneurs recording the best results in this field.